Christian Film Festival
Join us for the Christian Film Festival!
Become an award-winning Christian Film Maker by entering one of our film festivals in 2017: 28 January 2017, 25 February 2017, 25 March 2017, 29 April 2017, 27 May 2017, 24 June 2017, 29 July 2017, 26 August 2017, 30 September 2017, 28 October 2017, 25 November 2017, and 30 December 2017!
Join us for the monthly Christian Film Festival (CFF)!
We have a full set of films / scripts for the 27 May 2017 CFF.
We are now accepting entries for the 24 June 2017 Festival here by Paypal and online at FilmFreeway!
The purpose of the Christian Film Festival is to showcase Christian movies, music videos, cartoons, documentaries, educational films, advertisements, script/screenplays, and web series, and recognize the people who made them happen. America needs to start encouraging and recognizing people who produce wholesome family friendly movies.
The event is at the Menchville Baptist Church on the last Saturday of each month.
Sign up below at our web page link for $20 or through FilmFreeway, send us a link to your video trailer and movie, and join us on the last Saturday of each month at Menchville Baptist Church in Newport News, VA to enjoy the shows, fellowship, and win awards.
The categories you can enter to win digital award laurels are feature film (45 minutes and over), short film (15-44 minutes), Mini-film (15 minutes and under), animation/cartoon, photo, student, documentary, educational, series, music video, song soundtrack, script/screenplay, web series, and advertisement/trailer!
The address for the film festival is Menchville Baptist Church 248 Menchville Road Newport News VA 23602.
Christian charities! A portion of every entry fee goes to Care-net, a Christian charity! So far the CFF has given $390 to Care-net!
What do you win:
Digital award poster and award laurels in both black and white to put on your movie poster, Facebook Page, or web site!
Digital award certificates to put on your Facebook Page or web site - if you attend we will print out the certificate and present it to you so you can have a photo for your web site of you getting your award!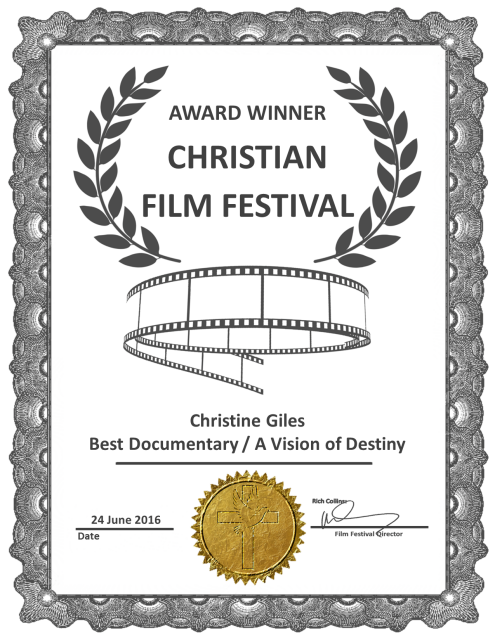 Here is the link to our Facebook Page: https://www.facebook.com/Christian-Film-Festival-1641247486127394/
Here is the link to our FilmFreeway page: https://filmfreeway.com/festival/ChristianFilmFestival
The director of the film festival is Richard Collins, an award-winning Christian author whose first 3D animated adventure, 'Raegan and RJ in Space: First to Mars' was selected for, and shown at the His Film Festival; in FT Lauderhill Florida in April 2017, Big Cross Film Festival in Hollywood California in November 2016, the Christian Worldview Film Festival in Texas in March 2016, and the Faith Film Festival in MT Juliet Tennessee on October 2015.
Awards for the Christian Film Festival! The CFF was in the 'Top 100 Best Reviewed Film Festivals' out of over 5100 in the world for July 2016 (#24), August 2016 (#26), September 2016 (#32), and October 2016 (#65)! Here are the award pdfs our film festival was awarded!!!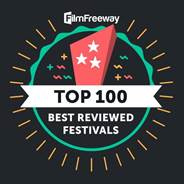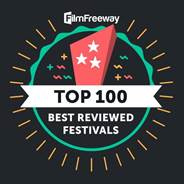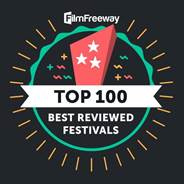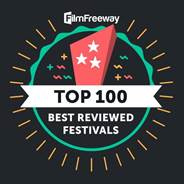 We use paypal for secure transactions!
Rules: If you have produced a Christian movie, cartoon, script, educational film, student film, documentary, or music video, and own the rights to it, you can pay the fee and enter the film festival. After your payment is processed just send us a link to your video and trailer. Once your fee is processed, we will post the link for your trailer only to our Facebook page and web site,
Note: This is a Christian family friendly film festival which will be attended by people of all ages, including little kids. Only films that have a Christian world view and contain no adult, innapropriate, or mature content will be accepted. CFF has the right to reject films that are not appropriate for our audience.
Pictures from a recent Christian Film Festival: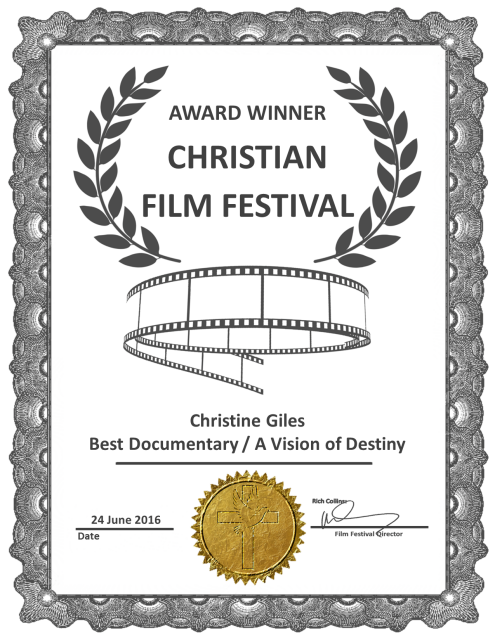 To see results and awards of all 2017 Christian Film Festivals see results at this link here:
http://www.raeganandrjinspace.highpowersites.net/cff-2017-awards.html
To see results and awards of all 2016 Christian Film Festivals see results at this link here:
This page is under construction!
http://www.raeganandrjinspace.highpowersites.net/cff-2016-awards.html
Event Poster for the 27 May 2017 Christian Film Festival:
Official Selections for the 27 May 2017 Christian Film Festival:
Feature Films:
'Faith's Song' by Frankie Hutto. A young girl's faith is tested, when her parents are suddenly killed in a car crash and she is forced to move in with relatives who are non-believers. She finds herself in a new city, new school and no friends… She is a talented singer, who wants to worship God with her songs, but her uncle and others at school challenge her faith. Only one boy seems to see the greatness in her… She has to come to grips with either fitting in or following God, which may cost her more than just her faith…
Mini-Films:
'Choices' by Michael Bell. A man doesn't realize golf has become his God-until he is shown the future.
Animated Films:
'Citizen of Heaven' by Bob Ladrach. Joe thought his life was over but he was just getting started. Citizen of Heaven is a fantastical narrative into what happens in the afterlife from a Christian perspective.
Documentary Films:
'Trace our Ancestors in Occitanie' by Momchil Karamitev. A trip to France regarding unknown doctrine adopted by the Cathars in 1100 from Bulgarian enlighteners men coming from the Kingdom of Simeon The First of Bulgaria, reaching breathtaking places mysterious songs and Paneurithmy movements by Beinsa Duno.
Student Films:
'Believe' by April Woodward. If you have doubts about your abilities God reminds us, I can do all things through Christ who strenghtens me
Music Videos:
'We Manifest Ourselves' by Rita Figueredo. Benji Kaplan hears and reproduces nature in "A Gente Se Manifesta" Music video extracted from the álbum Uai Sô (2016) directed and Photographed by Rita Figueiredo. Nature allows you to familiarize yourself and explore space. Outside the areas occupied by skyscrapers, dwellings, factories and infertile lands, contact with what man has not interfered with raises an expression that requires another language. Musically, it has flutes, clarinets, violins, cello and viola that, dynamically, dialogue with the immensity of nature's pure air.
Songs:
'The Crowning of a Maestro' by Terri Bea-Sopher. An original sing about Jesus being crowned the King.
Advertisements:
'Lord Change My Heart' by Tamala Coleman. Trailer to the upcoming movie 'Lord Change my heart' the story of a tragic accident that causes a couple to suddenly place their vacation on hold.
Scripts/Screenplays:
'The Singing Priest' by John Tsambazis. A boy without a purpose in life is able to overcome his shady past and find his true calling in the priesthood. The story of a poor boy from Malta who would become a globally recognized Roman Catholic Priest through the writing and singing of his songs
'1 Good Thing' by Kelly Frey. Capturing the turmoil of societal conflict and the very personal story of one police officer. Paul, a veteran police officer, has seen the darkest side of humanity – and has developed a hard-fisted approach that saves lives, but has earned him the fear and anger of almost everyone on his beat and made a disaster of his personal life. When Manual, a rookie with the same positive attitude Paul once had, is assigned as Paul's new partner, it seems that it might be up to the veteran to teach the rookie how to survive each shift in one of the worst districts in the city. But in 1 Good Thing, the teacher becomes student and through a series of hair-raising and heart-breaking events, reclaims life … as it should be lived.
'Hell's Kitchen' by Leonard Varasano. A tough New York City street cop confronts evidence of satanic ritual on his beat.
'Insurrection' by Simon Bowler. Script for a television mini-series based on John Brown's battles to end slavery.
Event Poster the the 29 April 2017 Christian film Festival:
Official Selections for the 29 April 2017 Christian Film Festival:
Feature Films:
'The Faith Line' by Micah Versemann. Ryan Davis and Jason Richards are best friends who want to become the best track runners in the state. However, when Coach Rogers offers them a way to fulfill their dream they must choose between listening to their coach or following the Lord.
Student Films:
'Rise' by Ethan Ness. A Man is being chased through the lifeless forest, and while his journey is dangerous and will lead to death, he pushes on knowing that paradise is at the end of the fight. Symbolism of Man's journey through life to PARADISE with GOD.
Animation Films:
'Seeking' by Crystal Law. This animated movie helps viewers think in different ways, the world is so beautiful so there are so many meaningful and inspirational things to see and do, so try to stay optimistic and seek new ways.
Documentaries:
'CHILDHOOD - A New Life in Les Petites Familles' by Luciene Lanas. "CHILDHOOD – A New Life in Les Petites Familles" is a reminder how essential it is for a child's development to have a good education, a regular and stable way of life where it feels loved. A true local, social and human adventure covering several generations and of which the theme greatly surpasses the regional character.
'Actors Interview' by Jared Leon. Sitting down with an up and coming actor Patrick Vann.
'Irreclaimable' by Justin Toppins. This documentary shows the dark side of trafficking in persons, but also shows hope by highlighting those who have overcome those circumstances and are helping others break free.
Web Episodes:
'The Perfect Family' by K. Addison Young. Greg Perfect the family reporter creates a Web cam for the world to see how imperfect his family really is but as long as his family follows gods guidance in the bible that makes them the perfect family. At the end of each episode is called family time. Greg ask several questions related to the episode to give families time to spend together as they get closer to God.
Music Videos:
'We are all alone in this together' by Michael McCallum Music video for Graham Lindsey by award-winning writer/actor/director Michael McCallum about a musician on the road, missing his wife.
'LeMarr LaRue "All Nighta"' by Antonia Arcella. This music video shows the devastating effects that the party life can have on you, but following Christ leads to a better path.
Advertisements:
'Genesis' by Robin Piree. According to the bible, God created all matter over the course of 7 days. On the last day of creation God created mankind, now let award wining menswear fashion designer 'Mirte van Wijngaarden' make you a man.
'Hawaiian Time' by Michael Miller. The movie trailer to an upcoming romantic comedy movie. Different values make love complicated. In this family-friendly, romantic drama, a down-on-his-luck paparazzi is tasked with chasing a celebrity wedding on the island of Kauai. On his first trip to Hawaii, he is immersed in an obscure Hawaiian sub-culture and making friends with the island locals as he tries to find the wedding. He meets an attractive local girl, Ku'uipo and their romantic journey begins. But, Ku'uipo's morals collide with his job and he is forced to choose between her love or his assignment. He chooses her. But, as their love grows he finds the wedding and takes his photos. He must then decide on her love or the lucrative payoff of his career.
Scripts/Screenplays:
'Angels Versus Demons I' by Ms. Slavica Bogdanov. In a world where the pact between God and Lucifer has been broken, 5 heroes are trained, armed and given special powers by Archangels to get into Hell and destroy Lucifer's machination to engulf the Earth in complete evil darkness. Gateway to Hell is a fantastic thriller that will keep you at the edge of your seat.
'Motema' by Joey Kent. When Luke trades his glamorous life as a private pilot for one flying relief missions in the Congo, he discovers surprising commonality there and is tasked by an ambitious woman with securing a better life for her young daughter in America.
'Tantalum Mass' by David Garrett. A genuine quest to understand the meaning of life is kicked off unexpectedly after an artificial intelligence named Dyrette established by the U.N. successfully curbs pervasive internet hacking which had crippled the world economy and compromised human value. At a summit in Denmark for experts debating "meaning," a young web developer with the help of an ensemble cast of "millennials" takes on two arch-villains bent on harnessing Dyrette to reconfigure humankind to their own sense of meaning.
'Drawing Hope' by Chris Leroy. Eight-year-old Hope and her family lose their home and all their family possessions to a fire. All except Hope's most treasured possession, her 'magical' colouring pencils. Her family has no choice but to live in a homeless shelter. As family relationships begin to fall apart, Hope sets out to save her family with the power of her pencils.
'Crave' by Micah Versemann. As a college freshman Olivia has been struggling. Something has been missing from her life but regardless of what she tries to can't seem to fill the void. As darkness closes in on Olivia she will be brought to a realization and have to make a life or death choice..
Event Poster for the 25 March 2017 Christian Film Festival:
Official Selections for the 25 March 2017 Christian Film Festival:
Feature Films:
'Unbridled' by Christy McGlothlin. Inspired by a healing ranch for troubled girls in North Carolina, "Unbridled" tells a tremendous story that exposes the atrocities of abuse, neglect and sex trafficking and the healing and redemption experienced by girls and horses who have suffered the same types of abuse.
'Provision' by Shorni Hardy. What happens when a man loses everything? Will he ever again stand? Provision" is a faith-based inspirational story chronicling the life of one such man of faith. As he navigates each challenge a powerful story unfolds about one man's testimony and the restorative power of God!
Short Films:
'Samantha' by Marc Allen. Samantha is a typical teenager who is faithful to herself, her friends and most of all her father. She has gone against the grain, turning to temptation and had premarital sex with her boyfriend. Now she has to find a way to mend the bond and trust she destroyed with her father. Her father, Tobias, is not interested in mending anything due to the fact he doesn't know how. Before the bridges that burned become repaired, God had other plans for Samantha.
Mini-Films:
'Regret' by Seth Dirks. From the mind of Seth Dirks comes an emotionally gripping Christian short film that was written, shot and edited over the course of just six weeks. The film begins with a man struggling with uncontrollable rage and alcohol addiction who's story twists and turns him towards the loving arms of Jesus Christ.
'20 Meters of love in Montmartre' by Pierre Gaffie. 4 lonely women in Paris find a secret connection between them, through their hearts and through their arts.
'Oppressed Free' by Ravi Rapaka. A Teenager trapped in addiction, will she find an exit door.
Educational Films:
'Chase You Dream' by Jared Leon. An Inspirational Video about Filmmaking. After attending a one week Filmaking Camp, a young man returns home inspired and begins making movies!
Student Films:
'The Road' by Alexander Baghdasaryan. Duology of difficult moral choices. Two completely different era, but such similar situations. Failure to comply with an order of a German officer is fraught with death. Sometimes, for the opportunity to stay human cost is extremely high. In the second story, in our time, young businessmen on a country road knocked the child to death. Selection also works - keep on the road, and the corpse of a child to escape or make a difficult, but only correct decision.
Web Episodes:
'Under The Pear Tree in Puchheim' by Matthias Holbert. Abel Hradschek and his wife Ursel are in great difficulty. After their children had died, they were still in financial hardship by Ursel's tendency to "nobility" and Abel's playfulness. While Ursel tried to find a stop in her faith and with Father Eccelius, Abel fled further into the game and into the alcohol. The traveling debt collector Szulski can arrive every day and take away the house and the farm. The village and especially the uncanny neighbor Jeschke observes the decline of the Hradscheks with malice. As Abel under the pear tree makes a discovery.
Music Videos:
'Micah Leann - Let The Healing Begin' by Jared leon. A music video short film about a girl who's auditioning to be noticed for her talent.
Songs:
'Solace In The Arms Of Another' by Yvonne Thomas-Harris. A powerful song about seeking comfort in strangers because the people you love have hurt you.
Advertisments:
'Embrace Life' by Robin Piree. An advertisement for bracelets. In a rapidly changing world we all seem to loose ourselves by letting our thoughts rule our daily life. Embrace your thoughts, Embrace now, Embrace Life. Earth, Air, Fire & Water form the base of the physical world and are present in all material objects according to Buddha.
'Skateboarding / Clothing - Daryl Grier' by Jared Leon. A commercial showing how a young Entrepreneur got to where he is today.
Scripts/Screenplays:
'Perfect Swing' by Seth Himes. After recently losing her swing, a young greenskeeper must defend her family's home course against clear­-cutting land developers and discover the power hidden within her swing in a high stakes game of golf.
'Jepthah The Judge' by Alvin Fruga. This is a Bible Story from the Old Testament! When Jephthah, the son of a harlot, is forced to leave home by his three half brothers, he becomes a mighty warrior in another land, and then returns home to deliver his people from their oppressors.
'Fighting The Itches' by Kimberly Washington. Inspired by true events, "Fighting The Itches" is a four-part story (Church, School, Work, and Home) that explores the isolated lives of Denise, a fearless 5-year old tomboy, and Carla, a God-fearing working Mom, as they struggle with their invisibility in the world.
'Cadeby' by David Keogh. When Vikings invade the village of Cadeby a small band of desperately unprepared people must defend it or lose everything. A cross between Zulu, The Magnificent Seven, Assault on Prescinct Thirteen and Braveheart, set in the Post Roman British Dark Ages at the times of early Viking incursions along the coast. A love story, an adventure story and a war film rolled into one. The tension builds throughout the piece as the Vikings close in on Cadeby, a real fifth century village populated mainly by the elderly and the infirm. They must defend the village from the Vikings to stop them from travelling south and wiping out all of the villages along the coast. One man, Faelan, with the help of an unlikely and unprepared band of heroes stands in the way of the invaders. Can he persuade the villagers to defend themselves or will they just become another slaughtered village? This works as a series of short films, a mini series, a full length series or a movie - this being the movie version. A story of tragedy, loss, love and what people will do when the odds are stacked against them.
Event Poster for the 25 February 2017 Christian Film Festival:
Official Selections for the 25 February 2017 Christian Film Festival:
Feature Films:
'Sister Able's Closet' by Terri Bea-Sopher. A comedy about a very interesting group of church members who get invited over to Sister Able's house and find a big surprise.
'Undeserved' by Marc Steele. Dawn, a young woman of 18 is suddenly forced to live with her aunt and uncle after her mother is tragically killed. Soon after her arrival at her new home things go terribly wrong and she runs. Finding herself on the streets in unfamiliar territory, Dawn is easy prey and falls into a life she never expected. Her aunt goes and a search for her and with the help of a street preacher they find Dawn and introduce her to the love of God.
Short Films:
'I Love You Truly' by Ian Woodward. I LOVE YOU TRULY is the story of two young people discovering and building trust and finding a soul mate they hope will be with them forever. It follows the on-off relationship of the couple as they begin to find out more about each other and experience true love for the first time. It stars the acclaimed young English actors Charlotte Frost and Richard Mark as the young couple.
Documentaries:
'Poets of the Mountain' by Vince Williams. Deep in the snow-covered Himalayan Mountains of India lies Kullu, the valley of the gods. At the House of Grace, orphans come from various mountain villages in search of hope. Hope to escape the extreme impoverished conditions of India. Hope for an education. Hope to grow-up strong. A safe haven, three decades in the making, allows for a life that begins at normal but quickly becomes free, inspired, and enchanting. Godly love creates a bond among these people that fosters a humble stance and an artistic depth. Poems written by the children represent the hardships of being an orphan, the desire to break out of that mold, and the hope Christ has given them for a bright future.
'Hard Place Serveants: A Father's Perspective' by Grant Dixon. A father visits his daughter and family who live in an Asian slum on a rubbish dump, where they endeavor to serve the country's poorest. This film relates his journey and the cultural clashes he observes along the way. Extreme poverty and excessive wealth are contrasted, - where for the poor living outside of the official community means they also live without civil support or basic health care. This film gives good insight into the struggles of modern missionaries as they endeavor to reach out and befriend their neighbors, while holding in tension the expectations of traditional churches and western culture.
Web Episodes:
'The Network – The Big Red Button' by Chason Laing. 'The Network' is a web series about several Christians who decide to start a film network on their own. In this episode…. After their first show is broadcast, Chris and Garret scramble to get the network up and running and begin to realize how over their heads they really are.
Music Videos:
'Joyful' by Oliver Saint Victor. A music video about having knowledge that soothes the soul and love toward each other.
'Hi, My Name is Danny' by Norman Fisk. A music video about Danny Kees who was hooked on drugs but took a path to recovery and beat his addiction. A true story about how someone can get back to a productive life and recover apart from the destructive cycle of the highs and lows of a true national tragedy
'Amazing Love' by Christy Phillips. A music video about how amazing God's love is for us.
Songs:
'All I Want' by Zivan Holloway Jr. A New Christmas song which is about wanting Jesus instead of a bunch of presents!
Scripts/Screenplays:
'Rainbow Binky' by Kuly Jean Karan. We are all God's children, but a little girl with cerebral palsy called Binky is God's pacifier.
'A Blue Knight to Remember' by Leonard Varasano. A Blue Knight to Remember is the story of one man's loss of faith as a result of his tragic role in the death of his parents during the attacks of 9-11. The protagonist, a heroic yet compassionate police officer suffers from ensuing bouts of despair and begins a spiritually devastating, downward spiral. Only through the intervention of his lost parents' undying love can his life be placed back in order.
'Miracle's Baby' by C. Nathaniel Brown. After becoming pregnant before marriage, 16-year-old Miracle Burnett questions her faith and whether to keep the baby. Her decisions could impact an entire community.
Here is the Event Poster for the 28 January 2017 Christian Film Festival:
Official Selections for the 28 January 2017 Christian Film Festival:
Feature Films:
'Restoration' by Mr. Jeremy McLamb. CK Erwin is a man who's lost his family as well as his will to live. But, when he takes a job as a mechanic at a small Auto Restore shop, he is soon involved with a new ragtag family who needs him every bit as much as he needs them. Especially feisty Samantha "Sam" Collins, a high school wrestler, who needs a private coach for her last shot at Finals this year.
'The Invention of the Year 2016' by Mr. Jean Seban. A cinematographic essay about time, oriented on the relay from generation to generation. The script is inspired by the Christian poem "Portal of the Mystery of Hope", by Charles Péguy (1873 - 1914).
Short Films:
'Why Me' by Mr. Miguel Gonzales. In desperation, a man questions God, Why Me? Only to discover that God's plan for each person is perfect.
'The Towns We Lived In' by Mr. Robbie Fatt. Two childhood friends who grew up together in a small church in the blue mountains of Australia run into each other by chance a few years later. Upon meeting, they decide to go back to visit the town they grew up in. On the way, they talk about the reasons why one of them left the church and why one of them stayed.
'The Thorn, the Music, the Flowers' by Mr. Chris Lythgoe. The free spirited Scarlet finds herself alone one day when she is involved in an accident. Badly in need of help...then she meets Specter and her life will never be the same as she learns more about herself and him!
Mini-Films:
'Tom's Last Night' by Mr. Chris Lythgoe. Tom is faced with a very important decision but when he shruggs it off he is visited...
'Artichoke: The Art of the Choke' by Mr. Chris Lythgoe. A New York Mayor dares to stand against the Terranova Crime Syndicate.
'Snowflakes and Diamonds' by Mr. Johnick Petry. A thought provoking glimpse into the struggles of a young woman's heart as she contemplates love, marriage, children and family during the Christmas seasons of past and present.
Animated Films:
'The Faith Kids - The Image' by Ms. Natausha Bushell. This is a Christian Superhero Movie. When children are lured away by an evil darkness, and come up missing without a trace, God's ordained Hero's including Sam, Samantha, Gwen, and J fight against the wiles of darkness, as the fate of the world hangs in the balance.
Documentaries:
'Sultan and the Saint' by Mr. Alexander Kronemer. Two men of faith, one a traveling Christian preacher, the other the ruler of a Muslim Empire, bucked a century of war, distrust, and insidious propaganda in a search for mutual respect and common ground. It is the story of Francis of Assisi and the Sultan of Egypt, and their meeting on a bloody battlefield during the period of Christian-Muslim conflict known as the Crusades.
Student Films:
'The Little Dictator' by Ms. Nurith Cohn. Prof. Yossi Kleinmann is an uncharismatic history professor lecturing on political leaders in totalitarian regimes. Neither his students nor his domineering wife show him any respect. At a Sabbath weekend celebrating the 90th birthday of his wife's grandmother, a Holocaust survivor, Yossi suddenly finds himself in an unexpected situation which forces him to confront history, his family and himself.
Web Episodes:
'The Network – Tuna Salad' by Mr. Chason Laing. 'The Network' is a web series about several Christians who decide to start a film network on their own. In this episode…After an awkward dinner followed by an impossible filming experience Chris struggles with doubt. Meanwhile, Garret has difficulty talking his old college buddies into supporting the network endeavor.
Soundtracks:
'Genes of Our Fathers' by Mr. Braam Ackermann. A rockumentary of my album, "Genes of our fathers" which deals in part with the songs I wrote following my mother's death in a terrorist attack.
Advertisements/Trailers:
'A Touch of Stardust' by Mr. Rob Rickenbough. The trailer to the upcoming film about a heartbroken romantic who gets a second chance to marry the woman he believes he is fated to be with.
Scripts/Screenplays:
'A Touch of Stardust' by Mr. Rob Rickenbough. A heartbroken romantic gets a second chance to marry the woman he believes he is fated to be with.
'Journey of Mortals' by Mr. Phillip Hardy. After witnessing the crucifixion of Jesus, Saul Persecutes Christians, sees a vision, becomes Paul the Apostle, journeys throughout the world preaching, healing and facing the wrath of the Roman Empire and violent anger from his own people.
'Born to Live' by Ms. Tamala Coleman. Faced with many adversities even after birth. A young girl must find her way through obstacles in order to find true happiness and recognize her purpose in life.
Here is the event poster for the 31 December 2016 Christian Film Festival: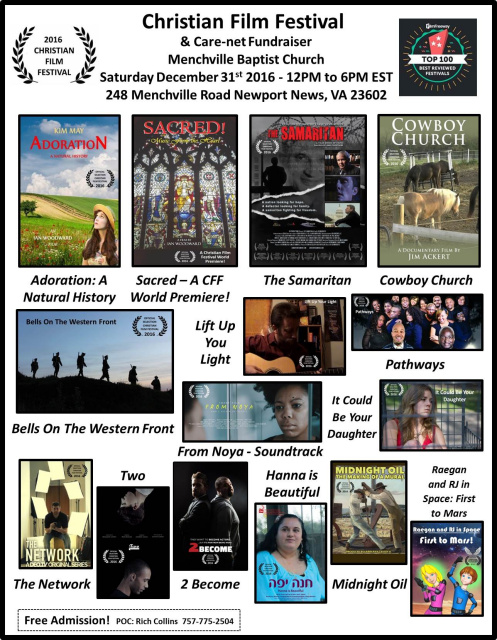 Official Selections for the 31 December 2016 Christian Film Festival:
Feature Films:
'The Samaritan' by Kevin McAfee. The true story of Eddie Roush, a maverick Texas lawyer, who stepped in to help rescue a Romanian family from a communist country in 1985.
'Bells on the Western Front' by Franco Demarco. As the bells of Christmas Eve ring from a nearby church across the trenches of WWI, Soldiers from both sides come together to declare a truce that history will never forget.
Short Films:
'Adoration: A Natural History' by Ian Woodward. A docu-drama with amazing cinematography of animals and plants, which showcases the incredible world God created.
Mini-Films:
'Sacred!' by Ian Woodward. A CFF World Premiere! A film which showcases 5 best-loved inspirational songs from the award-winning movie "I'll Walk with God" into one glorious, continuous stream including "Ave Maria", "Because God Made Thee Mine", "You'll Never Walk Alone", "The Lord's Prayer" and "I'll Walk With God".
'It Could Be Your Daughter' by Gudrun Gundelach. A powerful film which sheds light on the dark world of human trafficking, and that Christianity needs to step in and help the situation.
'From Noya' by Steve Thompson. This dramatic movie highlights the problem of depression, and shows how people with this disease should reach out to support groups and receive healing and help.
Documentaries:
'Cowboy Church' by Jim Acker. A day in the life of a working horse ranch in Michigan leading up to a Cowboy Church event.
'Midnight Oil' by Laura Lewis. The journey of a West Texas artist as she researches, designs, and paints a large mural depicting the history of oil discovery in the Permian Basin.
Student Films:
'Two' by Benjamin Coffey. A boy who obsesses over baseball struggles to mentally operate after being told he will only have two days to live.
'Hannah is Beautiful' by Shira Meishar. A film which tells the true life story of Hanna, a 37 year old special needs person living in Israel, who breaks many stereo-types because she lives an independent life and has a job.
Web Episodes:
'Pathways' by Stephanie Greene. Pathways is a web series about choices and free will, and how it affects our destiny and purpose. The characters in the web series are all on a path, but not all paths are leading to their destiny and purpose.
'2 Become' by Mikael Buxton. Alex and David want to give up everything to realize their childhood dream – to become stars – except they do not know how…so it's far from being won.
'The Network - Pilot' by Chason Laing. After losing his job Chris Hardy agrees to help his father Garret start a television network despite their lack of experience and know-how, but when viewers don't come and friends don't support their cause the two of them must find a reason to continue on.
Soundtracks:
'From Noya' by Steve Thompson. The dramatic soundtrack to a short film which highlights the problem of depression, and shows how people with this disease should reach out to support groups and receive healing and help.
Music Videos:
'Lift Up Your Light' by Donnie Rook. An original Gospel song about lifting and shining God's light so the people can see what is good and right; it is based on the scripture Luke 8:10-16 from the Bible.
Here is the event poster for the 26 November 2016 Christian Film Festival:
Official Selections for the 26 November 2016 Christian Film Festival:
Feature Films:
'Road to Revelation' by Paul Cohcran. This film is a story base on the book of job, Stan Rogers is a police officer and a minister, his daughter is killed by a serial killer who is still on the run. he must come to grips with his faith and what he is suppose to be. will he stand on his faith or fall down.
'Bully's Bane' by James Broadwater. Bully's Bane is the story of a group of teenagers who turn to their friend, Joshua Brogan, to teach them how to defend themselves against a violent drug gang at school. When the gang turns out to be connected to a crime syndicate kingpin who Joshua's law enforcement father and his team are after, the father and son begin working together to bring the whole operation down. While there is lots of marital arts action and gunplay, the team learns that evil truly is powerless if the good are unafraid, and that some fights can only be won with the Gospel - the most powerful weapon of all!
Short Films:
'Illumination' by Jeff Akers. Illumination brings light to the mindset of unbeliever, Alexander Scott, who continues to deny that God is real. Scott has to embrace the truth about the plot behind modern day technology and the plan to implement the beginning stages of the 666 revolution.
'Blossoms of Faith' by Samuel Omole. Twenty-three days before her wedding, Betsy McLean loses her sister to a stroke. The bride-to-be must take a journey of faith before she can walk down the aisle.
'Knocking Granny's Boots' by Jonetha Jomae Scott. A loving grandmother tries to teach her ungrateful granddaughter a valuable life lesson and the importance of her name.
Mini-Films:
'Thank you' by Micah Versemann. Thank You follows the story of Mark White, a U.S. Veteran that is dealing with regrets from the war until a mysterious stranger enters the picture.
'Seeking Solace' by Samuel Omole and Egbe Ode. After the death of her mom, Olivia struggles with a series of nightmares. She seeks solace with her older sister, Nicole who tries to keep the family together when their dad neglects his parental responsibilities.
'First Encounter' by Harold Gordon Woodside. A young boy encounters death of his grandfather and finds a difficult hope to challenge him.
Documentaries:
'A Piece of God's Plan' by Samantha Osburn. A Piece of God's Plan is about the special education program offered at Immaculate Conception Catholic School in Augusta, GA.
'One Million Wafers' by David Moncasi. Tells the story of thirteen cloistered nuns of a Havana convent who make the Catholic Mass wafers for all Cuba: one million wafers that travel through the entire island!
Student Films:
'Mazal Means Luck' by Mazai Ben YLshai. This documentary tells the story of Mazal, a young woman born to special needs parents, and through footage from both childhood and present day, weaves a moving testimony to the special situation and challenges their family faces!
Music Videos:
'Feel the Love' by Leonardo Martinez. A Music Video that showcases the happiness of when you Feel The Love of God and allow that love in.
'Peaceful Life' by Sebastian Bellaval. A homeless man lies in a crowded street. Ignored by the pedestrians, the old man is robbed of one of his only possessions: a football. To take it back, the poor man stands up and shows everyone he is not only what he looks like.
Scripts/Screenplays:
'Maggie and the 4 Wisemen' by Carrie Lee. Every generation of the Sullivan family has had a soldier to protect them and their country. Their sacrifices over the centuries have taken their toll, but the Sullivans have always come out on top, until now. Maggie Sullivan's husband is killed in Iraq. Tension prevails as she cares for a young son with spina bifada, a rebelling teenage daughter and their demented grandmother. Three days before Christmas, her daughter Haley goes missing, and the troops---Maggie's brother Murph, her estranged father Ike, a childhood friend and even her disabled son Conner, come to the rescue. Together they piece together the clues and go after Haley who has been left alone on by some mischievous teens, drifting at sea on an old sailboat. During their struggles, Conner inspires his family to return to their faith to heal their differences. This story is a tribute to wounded warriors.
'That Man Came' by Mohsen Azizi. Just before the general public had the suspicion that a second world war would break out, Jesus Christ appeared in a human body of a mentally disabled child in France. Fighting against the evil and for freedom, he died.
'Perfect Harvest' by Harold Gordon Woodside. Tells the story of three children and an intelligent donkey who forge an uneasy alliance to stop a covetous farmer from stealing his neighbor's farm, but when all hope is lost after stormy adventures fueled by mystical delusion, one moment of courageous love brings reconciliation between a man and his son and restores life's balance to all.
Advertisements/Trailers:
'The Adoration of Nature Woman' by Ian Woodward. A sacred scene from the award winning film 'Adoration: A Natural History'!
Here is the Event Poster for the 29 October 2016 Christian Film Festival:
Official Selection List for the 29 October 2016 Christian Film Festival:
Feature Films:
'The Second Coming of Christ' by Daniel Anghelcev. The journey of a woman scientist named Beatrix who, at the end of times, discovers that true Faith can bring Miracles
'Pass the Light' by Malcolm Goodwin. A high schooler named Steve runs for Congress on a positive platform of Christ's Love and wins in a write-in campaign.
''Between ashes and hope' by Desmond Denton. After a tragedy strikes his family, a young Preacher must learn to forgive, find hope in despair, and live again.
Short Films:
Agape' by Micah Versemann. Joshua Smith feels like the luckiest man alive when he marries the love of his life. That is, until things come falling down around him. Now, how far will he go to fight for his bride?
Mini-Films:
'In the End' by Vince Williams. A brother and sister torn apart by the death of a family member must find common ground in order to survive.
Documentaries:
'The Battle for Brandon' by Chad Bonham. The true story of a young man named Brandon Gee, the son of NCAA Division 1 basketball coach Jayson Gee, and their family and friends, as they journeyed through Brandon's battle with child-onset paranoid schizophrenia.
Music Videos:
'Christmas is Forever' by Tyler Adams. A music video about the reason for Christmas, Jesus, and how the holiday will be celebrated forever, which shows many traditional items like Christmas displays, a church, a nativity seen, and family and friends.
Soundtracks/Scores:
'The Samaritan' by Mark Johnson. The soundtrack to the multiple award-winning movie which tells the story of a daring 1985 rescue that took place in Romania.
Songs:
'Way Down in Bethlehem' by Scott Ennis. A song about the Christmas story and why Jesus came, which goes through many familiar items including the Shepards, the Angel Gabriel, Star of Bathlehem, and the 3 Wise Men, .
Scripts/Screenplays:
'The Piano Gospels' by Tony Gonzalez. When a town's wealthy magnate dies, he instructs his heir to have a piano repaired by the man he most wronged in life.
'These Three Remain' by Jeanne Dukes. After running from heartache for years, Faith, an interior designer in her mid thirties, has her life turned around when she comes home to reunite with her sister, Kelly, and brother, Shaun, for their mother's funeral.
'Haria's Worlds' by Houssein Hijazi. A girl is trapped by the traditions of her family and culture which break the course of her life.
Here is the Event Poster for the 24 September 2016 Christian Film Festival:
Official Selections for the 24 September 2016 Christian Film Festival:
Feature Films:
'Once Upon a Christmas' by Zivan Holloway. In the film, Once Upon a Christmas, James Johnson invited his family over to his house and they all ended up not only exchanging gifts but secrets!
'Lenteblom (Spring Flower)' by Desmond Denton. A young man named Shaun returns to his home town after several years learning to farm, but experiences difficulties because the community has changed, along with his girlfriend Karen, mother, employer Mr Coetsee, and his old buddy Papsak. Lenteblom portrays the dilemma of a man in a community - struggling to stand up against the moral decay of our time. Lenteblom is a story of hope, where love finds a way to blossom - even in the midst of pain, brokenness and evil.
Short Films:
'By His Stripes' by Stephen Borsales. A chronicling of the final hours of Jesus' life following him through the crucifixion, resurrection, ascension, and flashbacks revealing the message behind the man.
Animated Films:
'Lovely Journey' by Carolina Hindigo. This is a surreal animation about a woman's life journey where she starts out curious and hopeful, meets good and evil, gets wounded and hurt, travels to the city, meets a man, and has many different meenings in the voiceover.
Documentaries:
'Nature & Us' by Kevan Keane. Poetic documentary examining our view of nature, and nature looking back at us.
Student Films:
'A Heart Under Shadow' by Adanm Potter. A young woman named Casi struggles after a difficult past when a young man named Justin asks to court her. Wondering if she can even face the possibility of marriage, she struggles to even hope for healing. Can she learn trust for Justin and can he prove he's not the man her father was?
'Mutzkeh' by Alon Rabinovich. An aspiring actor deams of playing the role of Shylock in the play 'The Merchant of Venice', but soon learns reaching his dreams will require sacrifice!
Music Vodeos:
'Call of Duty' by Barz Noble. A Hip Hop music video with a very catchy beat that reminds all Christians that we must spread the word about Jesus - it is our 'Call of Duty'!
Advertisements:
'Once Upon a Christmas - Trailer' by Zivan Holloway. This is a trailer made to publicize the release of the film 'Nujay's Once Upon a Christmas'. In the film, Once Upon a Christmas, James Johnson invited his family over to his house and they all ended up not only exchanging gifts but secrets!
Screenplays / Scripts:
'Lord Change My Heart' by Tamald Coleman. This script is about a newly happily married couple James and Janice Coombs who suffer through a tragic accident which leaves Janice wandering away from her faith in God. She finds comfort in many areas of encouragement from co-workers to friends and a mysterious Therapist. Janice realizes she needs God to change her heart and to give her a heart of forgiveness.A script which...
'Number 28' by Fred Perry. While watching TV in a doctor's waiting room, a young woman has an epiphany that alters the course of her life
'Carrow' by Ms. Kimberly Jade Tompkins. After his release from prison for the accidental killing of his closest friend, a hardened loner who cares for nothing but his sick daughter must choose between letting her die or a life of violent crime to pay for her care.
Here is the Line up for the 27 August 2016 Christian Film Festival: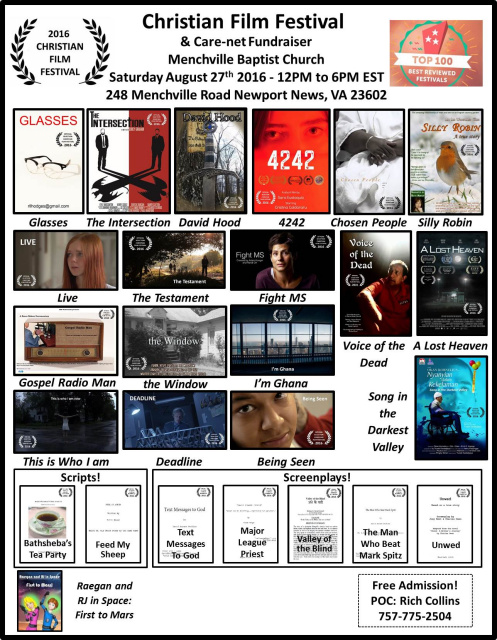 Official Selections for the 27 August 2016 Christian Film Festival:
Feature Films:
'David Hood' by Josh Ebel and Adam Fielden. An Old Legend...Retold… David Hood is a take on a couple old characters (The biblical story of David and Robin Hood) that have been put into a blender, added twist of lemon and a dash of surprise in brand new tale that is completely unlike either story. David Hood is about our hero David and his best friend Will who has been hiding for years and spends his time roughing up his nemesis, King Saul. This is a film full of action, adventure and even a bit of romance as we follow David on the adventure of a life time.
Short Films:
'Voice of the Dead' by David Criswell. A man who was convicted of a murder he did not commit awaits his execution when a new prisoner enters the cell next to him. In the course of conversation, the man in the new cell claims to be the man he murdered!
NYANYIAN Dalam KEKELAMAN (Song in the Darkest Valley)' by Yusak Kantandja. The true story about a sound man and musician who worked at a recording studio, who was in a devastating car accident that left him paralized. With God's help, his family and friends help, and the medical personnel, he made a miraculous recovery, and came back to record music and become an author!
'Live' by Elena Piskavera. A young woman who is considering having an abortion changes her mind and decides to have her baby.
Mini-Films:
'Deadline' by Valentine Burkhardt. A typical office day: Day after day Christoph builds houses of cards up to a red line above his desk. Each time he reaches the line, the line is set a little higher. His Superior Bob postpones the deadline to the next day in the morning. Seconds before the deadline he manages to finish the last house of cards. He gets the promotion and a nailclipper. After he clipped his nails he's escorted to another room full of Triangle Rulers. He tries to pick one up... but it's futile.
'The Window' by Frank Vespe. A couple discovers a window may be the portal to the end of life.
'Glasses' by Robert Hodges. A curmudgeon sees only the bad in everyone, until a stranger gives him a special gift that lets him discover the real truth about those around him.
'The Intersection' by Corey Graham. A man struggling with drug addiction soon finds himself transported to "The Intersection". Which is a stopping point between his world and the next.
Documentaries:
'Gospel Radio Man' by Bruce Nelson. Ninety year old Fred Larkins is the oldest living active African American DJ announcer in the USA, and still going strong. For forty-five years Bro Fred Larkins Slow Train Radio Gospel Musical Review has made an indelible impact on the Black community in the Greater Phoenix Area, Los Angeles, and in the state of Arizona. His radio gospel music review show has provided inspiration during difficult times; as well as a format for business owners to advertise, network and inform the community about current events.
'Being Seen' by Paul Zeher. This documentary explores the poorly understood subculture of people living with "developmental disabilities." These individuals' candid and articulate self-awareness quickly shatter preconceptions of who they are and how they think about themselves and the world — leaving us with existential questions about the meaning of "disabled" and "normal".
'Chosen People' by Qihui Wu. Through Cinéma vérité on the daily activity of a Hebrew Israelite church in the south side of Chicago, the film Chosen People provides a poignant and subtle mediation on relations among history, memory and identity.
'Silly Robin' by Ian Woodward. One morning in early autumn the lives of English naturalist Ian Woodward, FZS, and his garden-loving wife Zenka were suddenly changed. In their country garden near London they were befriended by a robin, England's unofficial national bird. It was the start of an amazing relationship between man and bird that would provoke smiles and induce tears. It was a friendship that would arouse tenderness and stir up emotions of wonder, admiration and trust. "When bird trusts man," says the filmmaker, "be proud." Zenka and Ian (a Fellow of the Zoological Society of London) called the red and brown songster "Silly Robin".
'The Testament' by Oleksandra Geylyk. This documentary tells the story of Rabbi Nachman, one of the founders of the Breslov Hasidic movement, who lived in Ukraine at the end of the 18th century adn the pilgrimage which comes to his grave site. Every year more than 30.000 hasids from all over the world travel to his grave in the small city of Uman to fulfill a testament about him. In this way jewish tradition comes to life again, in a place where there has been much pain for the Jewish people in recetn times.
Student Films:
'I'm Ghana' by Francesca Perticarini. This is a film about Fatahiya, an exchange student from Ghana, who was able to come to the US through a scholarship she won. In the film she shares some of her story and what it means to be in the US.
'4242' by Sara Estaquio. Cristi has just moved 4242 miles from home to an unknown country, far away from family and friends. At first, she is happy for the challenge. But soon she begins to question her place in this new world that seems to be a lost town, made of absences, distances, silence and indifference.
'This is who I am now' by Francesca Perticarini. This mini-student film tells the story of a woman who breaks up with her fiance because she realizes she doesn't need anyone next to her.
Advertisements:
'Fight MS' by Randi Orr. This advertisment was done for a fundraising camaign for Julie Amos, who was diagnosed with Multiple Sclerosis at the age of 23. She fights MS every day and manages to maintain a positive outlook. Julie's story is one saturated with struggle as she battles with the implications of MS and the effects it has on her family. The Amos family has become stronger as a result, and they work to raise money for the treatment needed to save her life. The stem cell treatment costs $130,000, they are halfway to their goal, ad they are raising money at this site here: https://www.facebook.com/julsoffriendship/
Songs/Soundtracks:
'A Lost Heaven' by Tobias Bieske. This is the soundtrack to a new movie. In this film the world has changed. The Earth's rotation has slowed. Days and nights seem endless , resources are scarce. People lose hope and orale. The society becomes increasingly isolated . One night, crossing the paths of three women and a little boy at a lonely gas station middle of nowhere ..
Screenplays:
'Major League Priest' by Frank Vespe. A former Major League pitching prospect truned priest gets a second chance to return to the game he loves, but first dodge the mob and an ex-sweetheart.
'Text Messages to God' by David Perkins. This screenplay is an action adventure story where an archeologist Daniel is on a dig in Iraq when he meets Amira who is in charge of the site, and they run into some very unsavory characters!
'The Man who Beat Mark Spitz' by Daivd Perkins. True life story of Doug Russell, first swimmer from Texas to win an Olympic gold medal (Mexico 1968) in an individual swimming event.
'Valley of the Blind' by David Criswell. Somewhere deep in the heart of the Himalayas a missionary has discovered a lost civilization made up entirely of the blind. When his agnostic friend hears of this civilization he heads out to find the valley with suspect motives, but when he arrives he finds the people are not so helpless as he had thought, and what he sees will shake his agnostic faith and prove that "in the Valley of the Blind only love is blind."
'Unwed' by Joey Kent. After 35 years of private anguish, Ruth Kilmer summons the courage to share her long kept secret and track down the son she was forced to give up for adoption.
Scripts:
'Bathsheba's Tea Party' by Corean Strong. Bathsheba hosts a grand tea party and invites 18 women of the bible ( good and evil women)... They have lots to talk about. Focus and message is how they lived their lives and how it impacts how we are living ours today.
'Feed My Sheep' by Scott Ennis. In this story a boy learns repsonsibility on his father's sheep farm
Here is the Line up for the 30 July 2016 Film Festival:
Official Selections for the 30 July 2016 Film Festival:
Feature Films:
'Providence' Rachel and Mitchell both grow up in the small town of Providence, Tennessee. Their paths keep crossing and at one point it looks like they'll finally get together. But the opportunity slips away and they go their separate ways. It takes a tragedy many years later before they're reunited. This time will they let the moment pass or will they take a step of faith and trust God to work a miracle in their lives?
Short Films:
'My Life My Way' by Ravi Rapaki. This film tells the story of a teenager's pursuit to find home away from home, will she find it?
'Greater Ground' by Ben Mansfield. In this story a lonely art student, in his final days at university, has lost interest in things that used to make him happy, and starts to question if there is more to life than seeking happiness.
Documentary Films:
'From Bohemia's Woods and Fields' by Ian Woodward. This documentary, filmed in Bohemia, uncovers the amazing story of Bedřich Smetana (1824-1884), the great Czech composer of the operas Dalibor and The Bartered Bride and of the epic orchestral suite Má Vlast ("My Country").
The Separates and the Separation of Church and State' by Kevan Keane. This film details the role of four Baptist preachers in colonial Virginia who played a crucial role in the development of American religious freedom.
'18' by Asher Segelken. This documentary has the director traveling America interviewing young men and women who express what it is like to grow up here and what it means to them!
'The Caravan Film' by Margot McMaster. This documentary follows a group of people and there horses as they make an amazing journey over 5 motnhs and 2,500 miles from California to Florida!
Songs:
'Rescue me Lord' by Joseph Chettham-Wilkinson. This awesome song is about thanking Jesus for coming and dying for our sins so we can go to heaven!
A Joyful Noise' by Joseph Cheetham-Wilkinson. This awesome song is about singing a song of Praise to Jesus and making 'A Joyful Noise' for Him!
'Lonely girl' by Barbra Angel. This great song talks about how when the world let's her down and she feels like a 'Lonely girl', if she reaches out for the Lord, she will no longer be lonely!
Scripts/Screenplays:
'Seriah's Legacy' by Julie Kaufman. This screenplay tells the story of a teenage girl named Emily and a horse named Seriah who found her way straight into Emily's heart one evening. As their bond grew, Emily felt she needed to know more about Seriah and of the life she had before she bacame hers. Finally knowing the truth of her past and of the slaughter of so many wild horses that were born to be free, Emily made a promise to Seriah to be their voice so that their legacy of freedom is returned to them! This is Seriah's legacy!
'Avianna' by Roberto Chiesa. After a 25 year absence from her father a daughter finds out he is in the hospital suffering from Alzheimer's and dying from cancer. She makes the difficult decision to reconnect the lost and damaged relationship.
'Resurrection Time Conspiracy' A group of evil people develop a matter transfer and time travel machine to go back in time and disrupt the crucifixion and resurrection of Jesus in 33 AD, and the stories heroes Simon, Amy, and Ram must stop them!
'Gabrielle' by Roger Sampson. A single mother must make a difficult choice to save the life of her little girl!
Here is the line up for the 25 June 2016 Film Festival: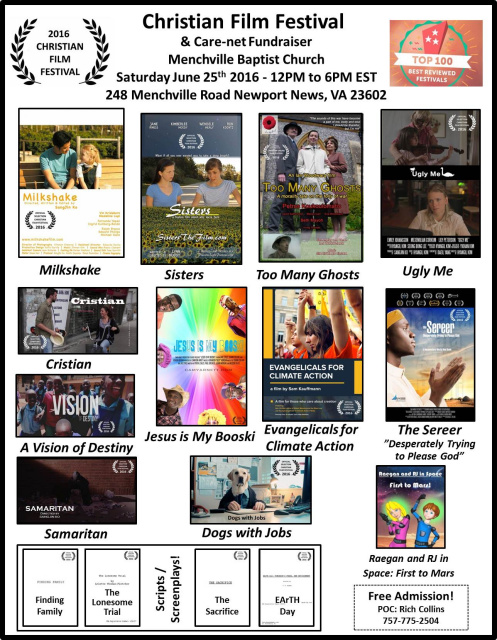 Official Selections for the 25 June 2016 Film Festival:
Feature Films:
'Sisters' by Lynn Moody. What if all you ever wanted was to take a deep breath? Praying for a miracle, sixteen-year-old Hannah Heinz has fought Cystic Fibrosis all of her life. When she meets twelve-year-old soccer player Sammy Foster and her family, she discovers the real reason for living it. A Precious Light Pictures film written and directed by Lynn Moody, "Sisters" is a poignant drama about why we're here, and what we're all destined for.
Short Films:
'Milkshake' by SangJin Ko. After their parents died, an adopted teenage boy struggles to live with his adoptive little sister against harsh reality.
'Too Many Ghosts' by Ian Woodward. A young soldier named Joe Franklin reflects on the folly of war immediately after the end of WWII.
'Ugly Me' by Hyangil Kim. Susan was a violinist grown strictly by her mother. However, she was fired from the position of the mistress in the famous orchestra and finally decided to leave to find herself.
Mini-Films:
'Samaritan' by SangJin Ko. A homeless man struggles for survival on the street but no one cares about him.
'Cristian' by Dorna Rusti. Cristian (55 years old) sees a girl (20 years old) in a park, crying. He is going through a nostalgic moment. He recalls one of his failed rendezvous from when he was young and decides to tell the story to the stranger in the park, convinced she is sad due to a similar reason. His story is short: in his youth he met a girl and asked her out on a date, but she never showed up. He is still obsessed with her image. He is certain it was love at first sight, although he didn't even know her name. Cristian introduces himself and the sound of his name spoken out loud in the quiet park triggers the revival of those past moments. Cristian relives the failed date. The girl he was waiting for was involved in a car accident and died calling out his name, not too far from the place where they were supposed to meet. This cry for him between life and death haunts him for the rest of his life and finally leads him to the truth.
Documentary Films:
'The Sereer: Desperately Trying to Please God' by Ken Beale. The Sereer people groups live in an ancient culture that was historically steeped in Animism, Voodoo and spirit worship. In the past two centuries modern Islam has taken a stronghold here. The people hold fast to the pillars of Islam. They pray five times a day, they fast during Ramadan, They give to the poor (though they are incredibly poor themselves). It seems they so desperately want to please God, but they don't know God because they don't know the truth about who Jesus is.
'A Vision of Destiny' by Christine Giles and SilverGirl Films. A documentary film highlighting the work of an American woman in the slums of Kampala, Uganda. Cariana Nash Karugireyo sees unlimited potential in the children of Uganda. Her vision is to build a world-class international school.After their parents died, an adopted teenage boy struggles to live with his adoptive little sister against harsh reality.
'Evangelicals for Climate Action' by Sam Kauffmann. This film introduces Evangelical Christians who are working for action on climate change and the environment. They explain how they became passionate about the environment, their fears about the future of our planet, and how their passion is based on their deep faith and love for creation. Citing key passages in the bible, they call on all other Evangelicals to join them.
Educational Films:
'Jesus is my Booski' by Cameron Arnett. Jesus Is My Booski is a children's fantasy series set in the enchanted kingdom of Zoe. In constant pursuit of the unseen Booski who has all solutions to life's problems, the mythical characters Jasper (Mic Sykes), Sha na Owa (Shawn Collins), Country Boy (Reagan Givhan) and a host of others shine a comical light on issues such as self-esteem, abuse, faith and character. Popping out of a green screen background, the Booski emerges to the urban sounds of hip – hop, with steady intervals of joyous praise breaks, praise reports, and a slight touch of a reality show. The Booski's the protagonist that has already defeated the villain, A.Cuser and all other "bad guys". In every conflict, the Booski is the solution.
Advertisements:
'Dogs with Jobs' by Jake Shannon. An advertisement for a company called 'West Australia Guide Dogs' fundraiser called 'Dining in the Dark'! This very funny advertisement has guide dogs dressed as people doing various jobs to show that guide dogs are very smart and lovable! Guide dogs for people who are vision impaired are very expensive to raise and train, and there are more in need of them then the supply. This company had a fundraiser in which people had dinner in a blindfold with family and friends and raised money off of sponsors which they donated to help raise and train more guide dogs!
Scripts/Screenplays:
'EArTH Day' by Ian Hughes. In the lead up to climate negotiations in Paris, a 'philosopher of the future' attempts to bring his environmentally themed story to the big screen during a 48-Hour Film Project. The film that results reveals a story far grander than the limited run time will allow.
'The Sacrifice' by Roger Sampson. In this story Roland Jennings is a powerful corporate raider who's life is abruptly turned upside down when he's diagnosed with terminal cancer. Now he must choose what is most important in life.
'The Lonesome Trial' by Arlette Thomas-Fletcher. This story is a story about the prodigal son amidst a back drop of fighting with the founder of the town and a preacher over a lost love and homesteading.
'Finding Family' by Timothy Benson. A teenage girl and her two younger siblings, struggle to understand their own self-worth and the concept of family after years of abuse, neglect and abandonment. It portrays the fragile children in America's Foster Care system and the beauty and power of adoption.
Soundtracks:
'The Sereer: Desperately Trying to Please God' by Ken Beale. The Sereer people groups live in an ancient culture that was historically steeped in Animism, Voodoo and spirit worship. In the past two centuries modern Islam has taken a stronghold here. The people hold fast to the pillars of Islam. They pray five times a day, they fast during Ramadan, They give to the poor (though they are incredibly poor themselves). It seems they so desperately want to please God, but they don't know God because they don't know the truth about who Jesus is.
'A Vision of Destiny' by Christine Giles. A documentary film highlighting the work of an American woman in the slums of Kampala, Uganda. Cariana Nash Karugireyo sees unlimited potential in the children of Uganda. Her vision is to build a world-class international school.After their parents died, an adopted teenage boy struggles to live with his adoptive little sister against harsh reality.
Here is the line-up for 28 May 16:
Official Selections for the 28 May 2016 Christian Film Festival:
Feature Films:
The Cokeville Miracle' by T.C. Christensen. The remarkable true story of a town facing a terrible tragedy and the sheriff's investigator who struggles with his faith as he gathers evidence that defies earthly explanation.
'The Wish: A Story of Hope, Faith, and Generosity' by Terrence 'Ty' Manns. The story of a young beloved high school teacher who needs a kidney transplant that is helped by her faith and her students.
Short Films:
'My Brother's Keeper' by Samantha Norsworthy. When a forbidden friendhip happens during a time of historical nationwide divide, something wonderful happens.
'Open Hands' by James Burns. In this Christian Western short film rancher Clay Cain is sentenced to hang after he's found with the body of Luke Owens, a known card shark who swindled Clay's father in a game of cards to obtain the Cain family ranch. While Clay waits his demise he must deal with the hate he has for Luke and his brother Perry.
'Harmony' by Enriquez Diaz. This film tells the story of a young female musician with a mental disorder who struggles with hallucinations and seeks normal relationships with her friends and family.
Documentaries:
'The Final Solution' by Brian Ronalds. Chance? Coincidene? Prophecy? An in-depth examination of the United Nations security ouncil Resolution 666 and how it closely parallels Revelation 13:16-18.
'The IBUR Connection' by Joe Diamand. The IBUR Connection is a film about miracles. It was filmed in Israel, the West Bank, Morocco, Ukraine, and Poland. It is a historical spiritual road trip told from the tombs of Saints and Prophets. At the tombs of the Saints, there is an energy known as an IBUR. When pilgrims go to the Saints at their tombs and ask for miracles, the IBUR helps to make the miracles come true.
'Turning 60: A Road Trip' by Grant Dixon. Grant decides to do something different for his 60th birthday and sets out with his wife on a road trip that takes him from Auckland, New Zealand's largest city, to a small regional town in the country's South Island.
Animated Films:
'Agrinoui' by Alexis Chaviaras. A young mare visits Cyprus to take part in races. Frustrated from failure, she abandons the racetrack after confronting her strict father. The mare will meet new friends who will try to help her find her courage.
Songs:
'God's Love Letter' by Terri Bea-Sopher. This song is about the Bible, God's Love Letter to all of us.
Scripts/Screenplays:
'Quest for Light: Adventure of the Magi' by Byron Anderson. Captivated by an extraordinary star, three Persian warrior priests journey along the Silk Road battling evil and struggle with their faith until they are transformed by God on their way to Bethlehem.
'Custom Altarations' by Robert Millett. Cultures clash when a disposable drunk in search of a new life stumbles into a little Italian Pentecostal Church one Sunday night in South Philadelphia.
'Enemy Witnesses' by Terri Bea-Sopher. Max Wilson is no longer a prized fighter but he always finds himself in a fight. When he takes on a construction job on the site of a dilapidated dojo, former Pastor Sifu Seayo enlists his help to thwart off would-be treasure hunters seeking a hidden treasure somewhere on the property. Sifu and Max both learn that the Past is the hardest enemy to defeat and win!.
'Echoes of the Hollow' by Barbara West. A young man from Appalachia leaves the shadow of the mountains and embarks on a journey of redemption after being involved in a swinging bridge mishap that causes the death of two young women.
'Ad Nauseam' by Ionnis Vougioukas. This student script tells the story of a possessive brother, hid sister Mary, and her boyfriend. When the brother tries to break up his sister and her boyfriend tragedy strikes, and he is forced to relive the tragedy over and over as his punishment.
Here is the line-up for 30 April 2016:
Official Selections for the 30 April 2016 Christian Film Festival:
Feature Films:
- 'Scattered' by Cyntia Leon. During the reuniting of old college freinds at a graduation party, a mysterious force takes hold of their reality. Trapped and frightened, those chosen are forced to face the the dark side of themselves.
- 'Walk on Water: Family Reunion' by Rich Nation. In this drama/comedy, Lilly lands a job filing court documents for MacKenzie, her friend from the past, only to discover traumatic details about her own childhood that she must now confront. Meabwhile, MacKenzie must confront her own family as her brother who's a fugitive of justice pressure's her to keep silent about him. As they look to one another for comfort, both women are forced to come to terms with who they really are spiritually and whether or not they can forgive family members for what they've done to rthem.
- 'The Red Rose' by Ian Woodward is a musical fantasy about a moderen day Alice in Wonderland. But whereas Alice experiences the Cheshire Cat and the Mad Hatter, the Girl encounters toy soldiers, marching bluebells, a dancing swan...and a Young Man who becomes her Prince Charming. With music by Tchaikaovsky and a cast of aspiring young dancers choreographed by Jacqueline Harman, THE RED ROSE features brilliant rising stars Jessie Talulah and Nicholas Anscombe in a fanciful tale of youthful whimsy and innocence.
Documentary Filns:
- 'April Zero One' by Marie Cavailles is a documentary filmed in Kiev Ukraine in 2015 which explores young adults and what it is like to be living in the Ukraine in these turbulent times. Young people in the Ukraine have many freedoms now and the ability to go on the internet and see other parts of the world. Should they move to Western Europe which has a better eceonomy but is more libeeral, or stay and try and build a life in theri own country which is struggling financially, but is better because it is conservative and religious. W well done documentary about young people in another part of the world!
Student Films:
- 'I Will Not Fear' by Nick Lindsay and Southern Adventist University is a Student Film which tells the story of Ed Rusk, an Ironman triathlete, who started participating in these races to improve his health. But when he fell ill during a race, God gave him the encouragement to finish. In this short documentary, Ed tells a lesson of faith about God's willingness to bring hope amid trial!
Educational Films:
- 'Fingerprints of the Flood' An education film by Daniel Barwell which shows through teh science of geophysics, Gravity, Magnetism, Satellite Imagery, and Advanced Computer Animation, that the Biblical account of the flood happened exactly as recorded in the scriptures.
- 'Koinonia with God' by Tate Hipps and 'The Dwelling Place Ministries' is an eductaional film diving into how to have an intimate relationship with God. The film explores the elements of Faith, Humility, Thanksgiving, Transpanrency, and Listening, and does this by having strong Christians explain these elemnts!
Scripts:
- 'Traces of Eden' by Barbara West tells the story of a restless treasure hunter who secures a seafarer's aged journals and travels to a remote isle for sunken treasure. When his ship capsizes and he experiences the loss of his son and crew, he doscovers remnants from an ancient paradise which lead him on a mystical, life altering journey where he is transformed by an other worldly encounter!
- 'A Question of Faith' by Terrence 'Ty'' Manns tells the story where a Pastor's life spirals out of control after his act of temptation contributes to the tragic texting and driving accident and death of his 12 year old son.
Here is the line-up for 26 March 2016
Official Selections for the 26 March 2016 Christian Film Festival:
Feature Films:
- 'Message of Hope' by Tom Lee and BLUESKYMAGIC PRODUCTIONS - this awesome feature film tells the story of 6 teenagers,, Sarah - Michael - John - Billy - Bonnie - Bridgette, from an upper-middle-class background, who are under extreme pressure to be successful from parents and society, but in the end the movie shows that the most important things in life are not material possessions and success, but helping others and knowing Jesus.
- 'Mission Improbable' by Mr. Donald James Parker and SWORD OF THE SPIRIT PUBLISHING - this awesome feature film tells the story of Matthew, a well to do Pastor in a well to do church, who gives up his fabulous lifestyle to become the Director of a rehab center in Crossville, TN, and by so doing discovers what being a Christian is really all about! This movie was Produced by Mr. Donald James Parker, Directed by Mr. Matthew Perdie, and Edited by Mr. Darren Dixon. It stars Mr. Collin Brown, Ms. Julie Tapken, Mr. Mike Tinker, and has a special guest appearance by Ms. Kelly Nelon Clark!
- 'Redemption of the Heart' by Mr. Isaac Meeks and RLT PICTURES - this amazing movie tells the story of Alex Montoya, a young Christian man whose life spirals out of control after he leaves the Faith. When he reaches bottom, and all hope seems lost, a kind man named Jacob helps him to turn back to Jesus and straighten out his life! This movie shows us first that no matter what we have done, it is never too late to turn our lives around and come back to God and the Church! Secondly, it shows us over and over during the movie that as Christians we need to give people second chances and forgive them, because that is what Jesus did for each of us! The movie was Written and Directed by Isaac Meeks and Sandon Yahn, Music by Todd Maki, Edited by Sandon Yahn, and stars Crister De Leon, Melissa Dixon, David Morales, and Joe Lambert! The colorist was Dennis Thomas, and songs were by Angie DeNicholas, Antwon King, Mike Lifquist, Mark Musuka, Manuel, Luke Page, and Sean Dee!
- 'Fourth World' by David Bolt - this powerful feature film, inspired by true events, is a fast paced adventure in the dark underworld where poverty, gangs, and drugs have taken over; but there is hope even in the darkest places when good people help out the helpless! The movie was brought to life by David Bolt (Producer and Director), Brandon Campbell (Music), Lacey Scott (Producer), Steve Bolt (Producer), Tom Pfingsten (Producer), Michael Bayer (Producer), Cheryl McKay (Consulting Producer), Brian Godawa (Writer), Austin Sheeley (Writer), Jonathan Dillon (Editor), and stars James Kyson (Legion), Andrew Cheney (Hudson), Kaitlin Cheung (Rubilyn), Brian Fong (Laz), and Jennifer Klekas (Elena)!!
Short Films:
- 'Adoration: A Natural History' by Mr. Ian Woodward and ENCORE Films, 'Adoration', a wildlife docudrama by lifelong English naturalist Ian Woodward, is a portrait of the countryside seen through the seasons, its fauna and flora, and through the eyes of Nature Woman. Although 'Adoration' is ostensibly a film about the seasons, there is also a hidden religious message. This wonderful educational film was Written and Directed by Mr. Ian Woodward, Camera and Editor Mr. Ian Woodward, and Stars Ms. Kim May as Nature Woman.
Documentaries:
- 'The Phoenix: Hope is Rising' by Phillip Gioja is an impactful documentary about an Illinois homeless shelter called the Phoenix House or C-U at Home which struggles to stay within the law and help as many homeless people as they can. It was created by Phillip Gioja (Director), Isaac Musgrove (Cinematographer), Ryan Marshall (Production Assistant),Steve Gioja (Drone Pilot), and stars from the Phoenix House Melany Jackson, Tony Contois, Stephanie Lee, and Dan Denton.
Scripts:
- 'Sandal's Acre' by Phillip Dorr. This awesome script tells the story of Sandal Woods the poor struggling foreman at an orange grove, and Remi Razlund the rich owner who, in ordering the destruction of Sandal's unkempt acre of herbs and medicinal plants, ends up destroying his only chance at life!
Here is the line-up for the 27 February 2016 Film Festival:
Official Selections for the 27 February 2016 Christian Film Festival:
Feature Flms:
- 'The Jewelry Box' by Guillermo Fossa Olandi and DOXA FILMS. This amazing feature film is about newly married Sofia and Alejandro, who because they are chasaing all this world has to offer, make some wrong decisions, and it costs them dearly. But we see in the end no matter what you have done, you are never too far gone to be restored to God and those around you who love you. The film was Directed by Mr. Guillermo Fossa Olandini, Executive Producer is Ms. Ariel Colacilli, Sodia was played by Ms. Nahilin Gaitan, and Alejandrio was played by Mr. Andres Giunta!
Short Films:
- 'a prodigal' by Alex Philippi and Plumbline Productions! This amazing short film and reenactment of one of Jesus' parables was written and Directed by Alex Philippi and stars Alex Philippi and Wolfgang Philippi!
- 'I'll Walk with God' by Ian Woodward and ENCORE Films! This wonderful short film and musical romance was Written and Directed by Ian Woodward, and stars Norman Bowman, Virginia Byron, and Claire Heverin!
Student Films:
- 'This Path' by Ms. Nasim Bowlus! Whutney Vesterfelt is not unlike any 23-year-old songwriter. She owns an ipod full of songs, some written by her and some by others. But lately she has kept one song on repeat. Originally intended for someone else, this song reflects the path she now finds herself on. Her song, entitled 'The Path', illustrates the strength found in suffering - something Whitney knows all too well. This film was Produced, Directed, Filmed, and Edited by Ms. Nasim Bowlus. It stars Ms. Whitney Vesterfelt, the singer-songwriter, Mr. Allen Vesterfelt, Whitney's Husband, and Ms. Darla Rakes, Whutney;s Mom. Light and Sound was done by Bryan Campbell and Dominic Silva. Music, including the song 'This Path'. by Ms. Whitney Vesterfelt.
- 'A Step Beyond' by Ryan Murchison and WHITE RAZOR FILMS! This amazing film shows what happens when you choose the 'wrong' path in life. This modern version of one of Jesus' most memorable parables, about the good straight and narrow path which leads to life, versus the wrong wide easy path which leads to destruction, was Written and Directed by Ryan Murchison, and stars Matthew Buren as Nick, Kenyai O Neal as Jacob, Amy Norvell as the evil Angel leading people down the wrong path to destruction, and Jack Rochelle as the good Angel leading people down the good path to life. It also has a special song 'Christ is the Way' by Evan Edwards.
Music Videos:
- 'Melpomeme' by Thespina Patronas; Director Michael Felanis; Assistant Director Kostas Dimakis; Produced by DREAMPIX Productions; Music 'Melpomeni' was by Thespina Music; Cast: Thespina Patrona-Danezi & Marios Drosos
Documentaries:
- 'Wings of a Dove' by Mr Jerry Thompson and BIGDOGFILMS tells the amazing story of Elbert Dove Thompson and his great American family as they come through the depression, Worl War II, and on to the present! It stars Jerry Thompson, Billy Swain, Kirsten Thompson, J Tyler Thompson,, and Shawn Culp.
- 'The Blessing for the Land of Egypt' by Mr. Ashraf Adel Aziz. This fascinating documentary details the sites the Joseph, Mary, and Jesus went to while they were in Egypt after fleeing Herod. It also shows video footage from a church dedicated to Mary in Maadi Cairo Egypt one of the places they stayed at.
Scripts/Screenplays:
- 'The Tribute' by Mr. Mike Reid. This awesome screenplay tells the story of a young woman who ends up living the life she desperately 'needed', not the life she desperately 'wanted' to have.
- 'NuJay's E.W.C: You Better Recognize' by Mr. Zivan Holloway Jr. This amazing script for a mini film tells a story about reaching out to non-Christians in love, not judgement.
- 'The Forgiveness Dance' by Ms. Judy Belshe-Toernblom. This awesome script for a feature film tells a story about forgiveness.