Christian Film Festival
Join us for the Christian Film Festival!
Join us for the monthly Christian Film Festival (CFF) which takes place on the fourth Saturday of each month from 12 Noon EST to 6 PM EST at our Church!
The next Christian Film Festival is 18 November 2023 our 64th CFF - For information or to see details on entering a CFF see our FilmFreeway page here: https://filmfreeway.com/ChristianFilmFestival
Note - we do a CFF the fourth Saturday of every month - you may get bumped to a CFF later than the month you enter because we limit the amount of each type of entry to 3 or 4 at most to give everyone the best chance for awards; ie we only accept 3 documentaries each month, 3 scripts, etc.
The purpose of the Christian Film Festival is to showcase Christian movies, music videos, cartoons, documentaries, educational films, advertisements, script/screenplays, and web series, and recognize the people who made them happen. America needs to start encouraging and recognizing people who produce wholesome family friendly movies.
The event is at the Menchville Baptist Church on the last Saturday of each month.
Sign up at our FilmFreeway page for $25, send us a link to your video trailer and movie, and join us on the last Saturday of each month at Menchville Baptist Church in Newport News, VA to enjoy the shows, fellowship, and win awards.
The categories you can enter to win digital award laurels are feature film (45 minutes and over), short film (15-44 minutes), Mini-film (15 minutes and under), animation/cartoon, photo, student, documentary, educational, series, music video, song soundtrack, script/screenplay, web series, and advertisement/trailer!
The address for the film festival is Menchville Baptist Church 248 Menchville Road Newport News VA 23602.
Christian charities! A portion of every entry fee goes to Care-net, a Christian charity! So far the CFF has given $430 to Care-net!
What do you win:
Digital award poster and award laurels in both black and white to put on your movie poster, Facebook Page, or web site!
Digital award certificates to put on your Facebook Page or web site - if you attend we will print out the certificate and present it to you so you can have a photo for your web site of you getting your award!
See previous CFFs! Here is the link to our Facebook Page:
https://www.facebook.com/Christian-Film-Festival-1641247486127394/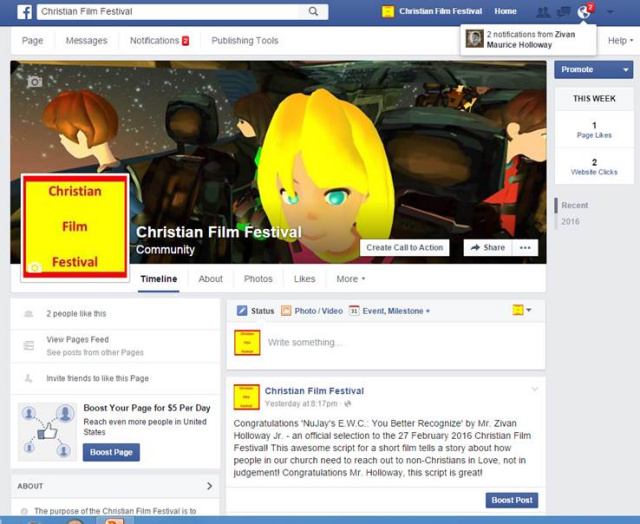 Enter the CFF! Here is the link to our FilmFreeway page:
https://filmfreeway.com/festival/ChristianFilmFestival
The Director of the Christian Film Festival is Richard Collins, an award-winning Christian author and filmmaker whose first 3D animated adventure, 'Raegan and RJ in Space: First to Mars' won the BEST ANIMATION awards at the 'Christian Georgia Film Festival' in Augusta GA in 2022, the 'Christian Georgia Online Film Festival' in 2021, the 'Christian Cinemafest' in Ellington NY in 2018, and the 'Christian Family Film Festival' in Ellington NY in 2017, and was also shown at the 'Christian World Arts Film Festival' in Washington DC in 2023, the 'His' Film Festival in FT Lauderhill FL 2017, the 'Big Cross' Film Festival in Hollywood CA in 2016, the 'Christian Worldview' Film Festival in San Antonio TX in 2016, and the 'Faith' Film Festival in Mount Juliet TN in 2015!!!!
Thirteen awards for the Christian Film Festival! The CFF was in the 'Top 100 Best Reviewed Film Festivals' out of over 6000 in the world for July 2016 (#24), August 2016 (#26), September 2016 (#32), October 2016 (#65), August 2017 (#46), September 2017 (#44), October 2017 (#50), November 2017 (#62), December 2017 (#17), January 2018 (#16), February 2018 (#15), March 2018 (#11), and April 2018 (#9)! Here are the award pdfs our film festival was awarded!!!
Christian Film Festival Award Winner T-Shirts!
If you are a CFF Award Winner here is the link to order a T-Shirt to display the fact that you are an award winning Christian Film Maker, Actor, Actress, or Script Writer -
Rules: If you have produced a Christian movie, cartoon, script, educational film, student film, documentary, song, or music video, and own the rights to it, you can pay the fee and enter the film festival. After your payment is processed just send us a link to your video and trailer. Once your fee is processed, we enter you in the CFF, post your entry announcement to the CFF Web Page below, the Facebook page at the link above, you will compete for the awards, and then after the film festival we will e-mail you the digital awards you won for your use and post your award poster to the CFF Facebook page and CFF award page for future verification! If you come to the CFF we will print off one of your award certs and we will do an award presentation photo in front of out backdrop that you can post to show your family and friends you are an award winner!
Note: This is a Christian family friendly film festival which will be attended by people of all ages, including little kids. Only films that have a Christian world view and contain no adult, innappropriate, or mature content will be accepted. CFF has the right to reject films that are not appropriate for our audience.
Pictures from some of our Christian Film Festivals: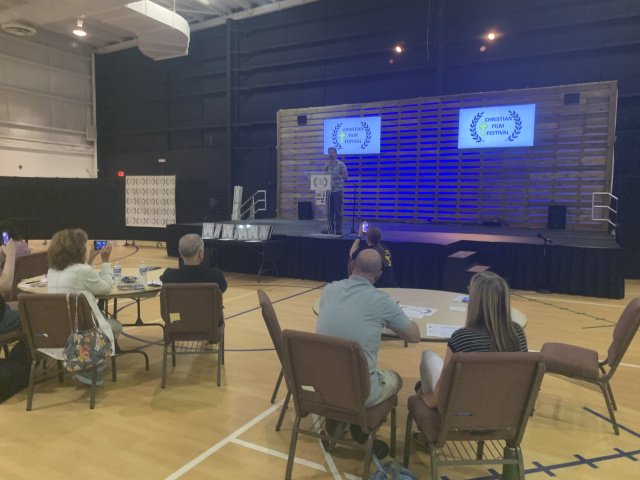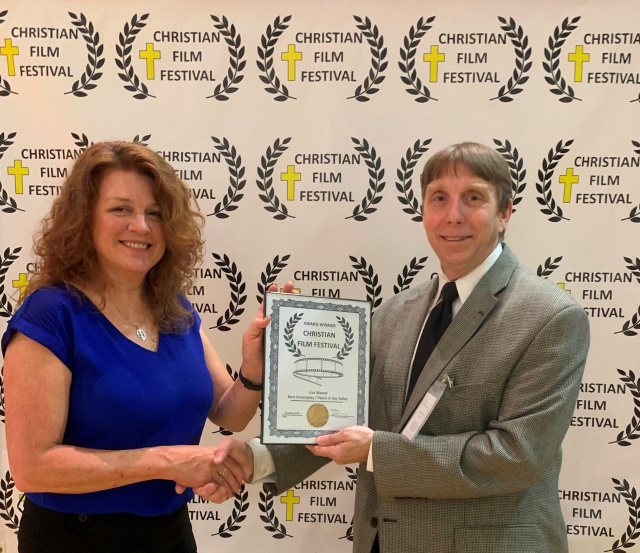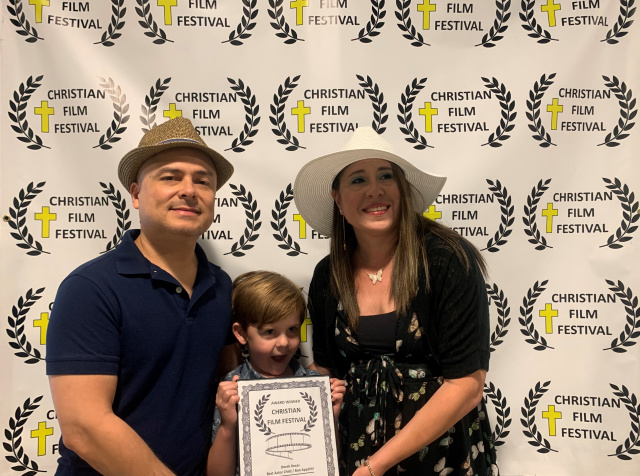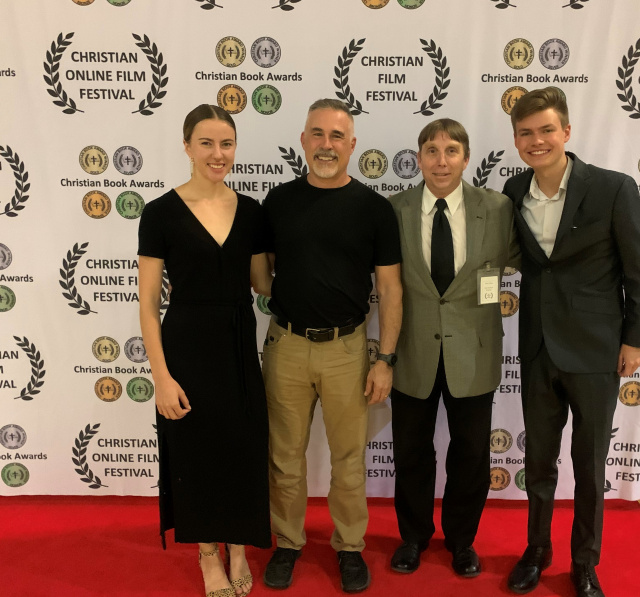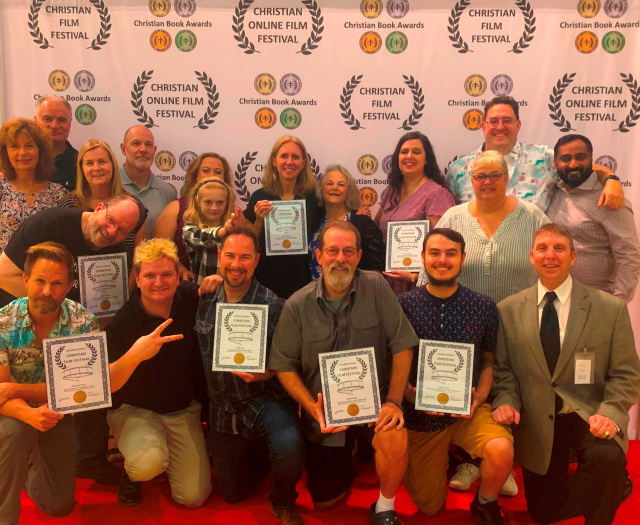 To see results and awards of all 2023 Christian Film Festivals see results at this link here:
https://www.raeganandrjinspace.com/cff-2023-awards.html
To see results and awards of all 2022 Christian Film Festivals see results at this link here:
https://www.raeganandrjinspace.com/cff-2022-awards.html
To see results and awards of all 2021 Christian Film Festivals see results at this link here:
https://www.raeganandrjinspace.com/cff-2021-awards.html
To see results and awards of all 2020 Christian Film Festivals see reults at this link here:
https://www.raeganandrjinspace.highpowersites.net/cff-2020-awards.html
To see results and awards of all 2018 Christian Film Festivals see results at this link here:
http://www.raeganandrjinspace.highpowersites.net/cff-2018-awards.html
To see results and awards of all 2017 Christian Film Festivals see results at this link here:
http://www.raeganandrjinspace.highpowersites.net/cff-2017-awards.html
To see results and awards of all 2016 Christian Film Festivals see results at this link here:
http://www.raeganandrjinspace.highpowersites.net/cff-2016-awards.html
Below are the Event Posters and Entries for the Christian Film Festivals!
Event Poster for the 18 November 2023 Christian Film Festival: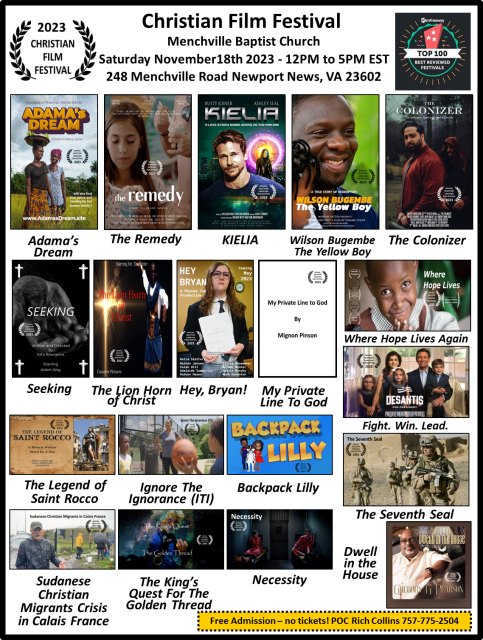 Official Selections for the 18 November 2023 Christian Film Festival:
Feature Films:
'KIELIA' by Vic Quinton and Wilbur Witt. A love story 10,000 years in the making. A time traveler (Kielia) goes back in time to Austin, Texas to discover the true meaning of a word that was forbidden and removed from all data sources for thousands of years...LOVE.
'The Colonizer' by Chozy Aiyub. A Christian Palestinian man named Kareem, out of kindness, opens his home to a homeless beggar named Theodor. Now inside, Theodor tries to take over his household and kick him out. This movie is an analogy for the plight of one of the forgotten peoples in the middle east the Arab Christians - once a sizable people group and one of the earliest Christian communities they are rapidly disappearing – now numbering only 1% Arab Christians left in the area. What should they do? What would God have them do?
Short Films:
'The Remedy' by Kate Sandnes. A Christian short film inspired by the story of director and filmmaker, Kate Sandnesand her late father. This film tells the story of redemption and hope in the midst of the highs and lows of father-daughter relationships. Through all the hardship, Molly learns the true remedy to heal her pain.
'The King's Quest For The Golden Thread' by Gerry Manus. A king is on a quest to find God.
'Adama's Dream' by Steven Stuart Baldwin. A young Themne woman faces mounting troubles at home. Will fear stop her from following her dreams? Adama's Dream is a film for the Temne people of Sierra Leone. It was shot on location in Sierra Leone, West Africa. The producers made this film to give the people of Sierra Leone their own Christian movie in their own language for them to relate to!
Mini-Films:
'Ignore The Ignorance (ITI)' by Mignon Pinson. A young boy named Justin keeps getting picked on at school by a boy named Andrew until he learns to 'Ignore The Ignorance (ITI)'!
'Necessity' by Cynthia J. Harford. Two American soldiers held as prisoners in Viet Nam bring their own secret weapons for survival. A tap code and a good memory awaken fresh hope in the captives.
'Seeking' by Estevan Bourgeois. Adam, an unmotivated youth pastor battles with faith and self doubt.
Documentaries:
'The Legend of Saint Rocco' by Michael Raab. A miracle worker saved by a dog.
'The Lion Horn of Christ' by Olivier Saint-Victor. This documentary follows a popular Christian recording artist named Mr. Thundder during one of his busy days. He spends time at a recording studio, on a radio show as a guest, and also he shares some of his thoughts on Jesus and being a Christian!
'Wilson Bugembe, The Yellow Boy' by Tommy Colin. The inspirational story of Wilson Bugembean award-winning worship leader in Uganda, who rose from a homeless street kid to winning the Best Gospel Artist at the Africa Music Awards. After losing his parents to HIV, he lived on the streets surviving off scraps and was given the nickname 'The Yellow Boy' because his only shirt was yellow. Through grace and God's providence he was saved and now is the worship leader for the 'Worship House in Kampala'!
'Where Hope Lives Again' by Stephanie Riggs. The inspirational story of a Colorado grandmother who went to Kigali, Rwanda, and oversaw the building and running of a children's school called 'Hope Haven Rwanda' which teaches the children of Rwanda not only reading and writing but about Jesus!
Animated Films:
'Backpack Lilly' by Maya Jai Pinson. Twins Alexis and Alex and their dog Lilly have fun playing and learning! In this episode Lilly teaches the kids the importance of doing homework before playing!
Student Films:
'Hey Bryan!' by Nathan Jensen & Melody Walker. Bryan (Bryanna Reeves), a cynic with an inclination to avoid people, slips and hits her head while walking down the street. Upon waking, she is struck with the ability to hear a narrator who knows the needs of others and can even tell her of future events. She tries to get to work but ends up in a narrative storyline against her will. Turns out that with a voice in your head, it is hard to tune out the world around you.
Music Videos:
'Dwell In The House' by Anthony T. Green and Greg Pearson. A music video which tells us grace and mercy will follow us all our days and we will dwell in house forever!
Newscasts:
'Sudanese Christian Migrants in Calais France' by Chuck Holton. Chuck Holton, award winning Christian Broadcasting Network (CBN) news correspondent, takes us to northern France to see first hand what is happening with the crisis of Sudanese Christian Migrants who are stuck in limbo in Calais as they wait in hopes of getting to England, their final destination. After a long and dangerous journey, thousands of these young African men live in squalor because they are out of money, just waiting and praying for a chance to cross the English Channel and get jobs in England! What will become of them, and will they make to England?
Advertisements:
'Fight. Lead. Win.' by the Ron Desantis For President Campaign. A YouTube advertisement which shows dramatic pictures and video footage of Florida Governor Desantis' and his administration's successes including building bridges fast after a hurricane to get relief supplies to the people, sending planes to Israel and evacuating stranded people quickly, helping to defend the border by sending some troops there, and finally culminates by saying he will do these types of things as President if elected.
Scripts/Screenplays:
'The Seventh Seal' by Walt Alexander. Tragedy strikes the life of Tony, a talented high schooler who excels in football, when he is in a car accident that kills his two best friends. After accepting Jesus, he joins up for the Army Rangers to fulfill one of his friends goals. Believing he should have died in the crash with his friends, he feels Death pursuing him. In the Army he learns the key to beating Death at its own game.
'My Private Line to God' by Mignon Pinson. When a precocious 6-year-old girl receives a special gift from her Auntie Kay on her birthday, she transforms it into her private line to God, seeking solace and guidance. As Joy's prayers go unanswered, her vivid imagination takes flight, expanding her praying circle as she stumbles across Matthew 18:20. Suddenly, an extraordinary event unfolds, bringing hope, miracles, and unexpected outcomes.
Event Poster for the 21 October 2023 Christian Film Festival:
Official Selections for the 21 October 2023 Christian Film Festival:
Feature Films:
'The Best Gifts' by CarrieAnn Lee. Tommy Bailey dreads having another self-indulgent Christmas; children that want everything under the stars, a wife that wants everything to be perfect and his Christmas bonus to be wasted yet again. Then with help from ancestors of Christmas past and the recent appearance of the Christmas star, his family has a change of heart.
'Tala' by Milton Randell Kaka. A young Samoan family has just found a new religion, the villages aren't to pleased so a few men go to the family's house and take the 5 month old baby. The family faces a tragedy which the mother struggles with for years. Years later the man responsible for taking baby Tala comes to ask for forgiveness from the family. Based on a true story.
Short Films:
'The Condition' by Rod Randolph. Sarah, a courageous teenage daughter of a mega church Pastor, confronts a life-altering diagnosis that tests her faith and values. A startling truth awaits her, and as she navigates this challenging situation, a life hangs in the balance. Experience a gripping tale of resilience and the transformative power of conviction in this profound film.
'The Magical Encounter' by Rabbi AlbertSlomovitz. Two teens Kristie & Joey head to the library on an assignment about religion. They encounter a mysterious librarian who shows them where to find their answer. Entering another realm, they encounter a young Jesus, who is studying the Torah. Jesus shares with them some life lessons he is learning himself. Upon their return, they are overwhelmed with the experiences they had. Their lives will never be the same.
Mini-Films:
'1914' by Rhys Horler. A British soldier in the trenches of World War 1, dreams about being with his wife and is attacked by German soldiers.
'Shore' by Tammy Mattox. Carly meets an interesting guy after she almost drowns.
'Max Winfrey Stunt Comedian' by Max Winfrey. Max Winfrey is a comedian whose family friendly show has been enjoyed by thousands of people for over 40 years!
Documentaries:
'Divine Visitations' by Dr. Kevin Dale McAfee. A documentary which showcases Christiaswho met Jesus and were saved during tumultuous times in their lives.
'Baseball Harmony' by Amy JY Hutchinson. Did you ever hear of a 9-year-old boy making a choice to become an orphan? This describes Kim, Young-do. Even his last name is borrowed from the owner of the childcare center where he was an orphan. However, he was never discouraged. Harmony in baseball? Yes. Kim Young-do's sense of humor, striking good looks, role as the team's lead hitter and baseball manager, and his unique background as an Afro-Korean-American, eventually all come together in perfect harmony.
'Divine Mercy's Big Bang' by Grzegorz Gorny. The film uncovers how the sect of the Divine Mercy became the most dynamically spreading form of Catholic devotion. Sister Faustina Kowalsky, only 25 years old, in Plock Poland in May 1930 saw Jesus and He asked her to paint a picture of him in a merciful position and told her this is what people are to think of when they think of Him. Jesus' message was He is a God of Mercy not punishment or vengeance.
Web Series:
'Battling Babylon' by Judah Akiva Ayling. Violence and explicit content is being thrust upon your children's minds through a variety of mediums. This short educational film leads the audience through the Romans 1 blueprint of what happens to a culture that abandons God and His ways.How do you protect your family in this peculiar generation?
Animated Films:
'Sugar Mountain' by Robert E. Leone. Humorous cartoon about kids going to Sugar Mountain Amusement Park. Faith overcomes fear.
Student Films:
'Hello, It's Me' by Casey Schaffer. After getting fired from his job for helping a friend, Simon returns home and is overwhelmed with bills and depression. After receiving an encouraging letter from an old friend, he tries to find the strength to go on!
Music Videos:
'Through The Storm' by Sudi (Rick) Karatas. A music video for inspiring song written by Sudi (Rick) Karatas about keeping the faith through the rough and challenging times!
Newscast:
'Japanese Manhood Crisis' by Chuck Holton. Chuck Holton, award winning Christian Broadcasting Network (CBN) news correspondent, takes us to Japan to see first hand what is happening with the crisis of young Japanese men who are rejecting their traditional warrior culture of discipline, courage, self-sacrifice, and family, and now just want too hang out with their friends and watch cartoons. Is there any hope for the beautiful and amazing young women of Japan struggling to find a marriage partner? How can they possibly compete against a $2 trillion animation industry whose funding comes from pushing unrealistic images and personages of women on the young men of Japan?
Songs:
'You're A Halo' by Debra Gussin & Dale Effren. A song about how Jesus comes as a light to save us from the darkness.
Scripts/Screenplays:
'Silver Star' by Leonard Varasano. Haunted by the death of a young child during his watch, a police officer contemplates vengeance against the suspect he holds responsible.
'Ivy's Christmas Gift' by Samantha Hallenus. A mysterious box arrives at Ivy's house. Ivy's parents are separated and Ivy's Mom calls Ivy's Dad about the box that is creating all kinds of chaos.
Event Poster for the 26 August 2023 Christian Film Festival:
Official Selections for the 26 August 2023 Christian Film Festival:
Feature Films:
'Not Your Romeo & Juliet' by Matthew Kistenmacher, Sean Gaffney, Don Mink, Jim Owens, David Samford, and Asbury University. With a popular romance column and a soul-mate, Micki has love all figured out -until a competing, anti-romance column rivals hers. It's love and war as Micki is determined to take down "Not Your Romeo" even if it destroys them both.
'Miracle at Manchester' by Eddie McClintock and Richard Newman. A community comes together to save a teenager from an aggressive form of brain cancer when this teenagers entire Catholic High School, student body and staff all 1700 of them, say a prayer over this teenager and 2 weeks later his tumor is gone.
Short Films:
'The Drive' by Michael Barder. Inspired by actual events, THE DRIVE tells the story of Mary, a devoted mother, and loving wife who struggles to cope when she's diagnosed with a form of epilepsy after a freak accident. No longer able to drive, Mary is given the option to undergo surgery to solve her problem for good. Mary believes she's found the perfect solution, but her husband Brett insists the risks are too great. Feeling trapped, Mary begins a slow descent into depression and must summon the courage to find the hope and healing she desperately needs.
Mini-Films:
'The Next to Last Supper' by John Kestner. A husband has his faith tested when he and his wife join her bitter, terminally-ill father for lunch.
Documentaries:
'Out of the Fire' by Matthew Reid. On August 2nd 2022, a tragic wildfire burned 1,210 acres acres in a small Texas town. John and Crissalane Discherre live that tragic day by walking through their property that suffered tremendous loss all while processing their physical, emotional, and spiritual rebuilding.
'Called: For Such A Time As This' by Jacob Holmes. This is a documentary about 6 Charleston, West Virginia area pastors, and their lives in ministry. They discuss things such as their struggles with death, their hopes for the church in the future, and the church as a whole's damage to its own image.
'In Solidarity with Ukraine' by David Naglieri. Russia's invasion of Ukraine was a shock. And through this war we are witnessing the reality of evil. But we're also seeing something else. As refugees fled, volunteers stood at the border to provide critical care and housing. In Solidarity with Ukraine explores what it means to be a Christian disciple in the midst of war, and how the light of the Gospel continues to shine in the darkness.
Student Films:
'Lux Inter Tenebras' by AJ Klapperich. The Roman Empire never fell, and its persecution of Christians never ended. Scott tracks down enemies of the State for Praefectus Anton to torture. After finding a Bible, Scott believes and begins copying it in secret. Can he get the Word of God back into the hands of the underground church, and what will he tell Anton?
'Persons Set Apart' by Gabe Schmidt. Although Priests and Ministers are human, they are held to higher standards than normal people.
Music Videos:
'Power' by David Gaylord. God is Power.
'Apart of Me' by David Gaylord. We are all connected.
'Becoming' by David Gaylord. Discovering My Destiny.
'Psalm 23' by Fai Cheng. I modified Psalm 23 into the style of seven-character poem in the Tang Dynasty, 100% rhyme. I seldom compose and arrange music after writing the lyrics. The Timpani I used sounded like thunder with stereo effect to honor the majesty of the Lord, and welcome God's grand entrance. I arranged the first half of this song relatively soft. The whole song is generally joyful and splendid to describe the awakening of the soul and walking on the path of righteousness with God.
Scripts/Screenplays:
'God Sent' by Larry Wright. A young man comes home to right a wrong and helps a community regain its love and community values.
'The Pickleball Killer' by James Carroll. Brigg, an aging pickleball sensation, with supernatural speed, and dark mysterious origin, becomes the target of the criminal cartel after he rescues several girls who were being illegally held by them against their will. After the cartel steals them back, Brigg must use his special abilities and all his resources in a suicidal mission to free the girls!
Event Poster for the 22 July 2023 Christian Film Festival:
Official Selections for the 22 July 2023 Christian Film Festival:
Short Films:
'Picnic With Me?' by Laurie Vines, David Leehy, & Tyler Darden. Follow a couple's journey through marriage, from youth to golden years.
Mini-Films:
'Calington Castle' by R. A. Feller and Grayson Berry. A Christian fantasy movie based on the book series by R.A. Feller. Set around a kingdom that is crumbling from the inside, KING HENRY, the protector of Calington and carrier of the light, has now fallen under an evil spell, and his son, PRINCE LIAM, is forced to travel outside the kingdom to find a cure. However there is a bigger battle being waged behind the scenes, and LIAM is the dividing object of these forces affections.
Documentaries:
'Celestine V. The pope out of this world' by Ralph Palka and Cinzia TH Torrini. This documentary reconstructs the story of Pope Celestine V (1211-1296), the holy hermit through interventions by historical experts, journalists, writers and prelates. Historical reconstructions recall crucial and intimate moments in the life of Pietro dal Morrone, played by the actor Marc Fiorini.
'On a Knife's Edge' by Jen Ayling. In this documentary we explore the harrowing events that unfolded during the Covid-19 outbreak in Australia. We had heard rumors about how hospitals were using dangerous protocols. We had no idea that our worst nightmare was about to come to pass. With multiple organ failure and an unfathomable list of complications, our only hope was a miracle.
Animated Films:
'Pigasus: The Lost Paradise - Battle for Evermore' by Sean Patrick O'Reilly. Pigasus is a coming of age adventure story about a unique little pig prophesied to confront the evil Rathvarin the great battle for evermore. But, Pigasusmust first find the faith to believe in the loving light of the Presence or the blackness of the darkness will forever rule over what was once Elysium.
Web Series:
'Bible Album' by Esdras Pierre Etrenne. Bible Album web series that combines a blend of God's word (Scripture) with God's word made manifest (Creation) from Genesis to Revelation.
Student Films:
'I Rep The Christ' by Josh Li. Father Victor Taglianetti AKA Bro Vic uses his talents in rap to teach the new generation about the teachings of the bible. This documentary explores his conversion and his rapping journey.
Scripts/Screenplays:
'Love and Polenta' by Dawn Winkler. Retired chef Dedra(50s) gets a second chance at love when she finds herself working with her restauranteur ex-husband Fabian on a food magazine assignment!
'Charity' by Melody Brooke and Michael Henricks. It's 1969 and Charity, a 13 year old conservative girl, faces the hippie revolution armed only with her faith and her Good News Bible!
Event Poster for the 24 June 2023 Christian Film Festival:
Official Selections for the 24 June 2023 Christian Film Festival:
Feature Films:
'Prophetic Prayers' by Isaac Odeniran. Pastor George is a minister of the gospel of Jesus Christ who is also a successful businessman, a philanthropist, and a builder of the Kingdom of God. Although he has enemies who seek to destroy his business and harm his children's future, he has been blessed with a prophetic gift to help him.
'Unknown Crisis' by Isaac Odeniran. Simon's life is filled with disappointments despite his good intentions and efforts. His wife is bedridden, and medical bills are mounting, while his son is rebellious and self-destructive. Overwhelmed by depression, Simon confides in a stranger and begins his journey back to hope. However, he is unprepared for what he will discover as he uncovers the real cause of all his troubles.
Short Films:
'Fight For Life' by Mariano Mendoza, Jeff Ezell, and Mark Newton. The incredible miracle story of a near death Covidsurvivor's 8 month stay in the hospital.
Mini-Films:
'Earth is a stupid place' by Jody Mortimer. A movie about 3 evil aliens who crash land on earth trying to get back to their ship who attack everyone they see.
'Levanta' by Felipe Alemany Lopez-Santos. Levantáis a short film about SemanaSanta in Málaga, Spain.
Documentaries:
'My Mother Nanette Burnett' by Michael Burnett. Michael Burnett sits down with several people who knew his mother, allowing them to share their story of how Nanette Burnett impacted their lives.
'Me and my 6 disorders' by Jody Mortimer. A documentary about how the author gets through each day coping with disorders.
'Fight For Life' by Mariano Mendoza, Jeff Ezell, and Mark Newton. The incredible miracle story of a near death Covidsurvivor's 8 month stay in the hospital.
'Into The Light' by Jacob Valk & John-Michael Bout. Into The light is a Teaching Documentary on freedom from addiction that walks through the fundamentals of change from bondage in sin to freedom in Christ.
Animated Films:
'Stories of fairies and giants' by Jacopo Fo. This film looks at legends across different continents and cultures which share similarities. It recounts the Italian legends of Gela about the giant of Manfria, his sister the beautiful Castellana and a mysterious and beautiful woman capable of paralyzing men with a simple gesture. Investigating these medieval narratives, we discovered that they are related to others, English ones, about the Fairy Morgana and Merlin the Magician. And there is also a legend about a castle in the depths of the Straits of Messina where the Fairy Morgana lived, surrounded by young men and women of rare beauty. In just over twenty minutes, Jacopo Fo'svoice takes us on an ancient journey suitable for adults and children alike.
Music Videos:
'The Warning' by Jody Mortimer. A music video about the coming warning from the Bible.
Event Poster for the 27 May 2023 Christian Film Festival:
Official Selections for thee 27 May 2023 Christian Film Festival:
Short Films:
'Grace From Out of the Blue' by Dennis Packard. Margaret Bradshaw is and wealthy business owner who finds salvation under life and death conditions.
Mini Films:
'Broken' by Joel Proffit. The first episode of a 5 part miniseries for those who love the sport of hunting. . .specifically elk hunting. The director and editor make an analogy between a bull elk that had a broke rack and many who have broken lives. This series is meant to give encouragement and hope to those facing difficulty.
Documentaries:
'Armenia: A Love Story' by Chuck Holton. Mark Tomlet, a teenager becomes intrigued by Armenia's history and culture after learning about the conflict from a friend's war correspondent father. Mark and his friend Amy embark on a life-changing journey to Armenia, visiting the war zone of Artsakh, and in the process, learn a lot about themselves. That first trip leads to more engagement with Armenia, leading tours to the country, and eventually, something amazing happens that brings joy out of the tragedy of war. It's a serendipitous story of hope from tragedy, a chance adventure, and love blossoming even in the worst of circumstances.
'Mama Kim, First Love In Africa' by James Jun. Hyun Lim.Jean "Mama Kim" 70 year old woman, lives ordinary life in Long Beach, California. Yet, there is one extraordinary thing that she does twice a year for past 26 years. Visiting Africa. She has built 36 churches and 7 schools and has donated millions of dollars worth in Africa. She doesn't get any sponsored nor get paid to do this. She sometimes sell her own stuffs to go to Africa. In Africa, people call her Mama Kim. Why?
'Last Station Calvary' by Holger Klussmann. The Last Hours in the Life of Jesus 250 years ago, Christ revealed to the Benedictine abbess Maria Cecilia BaijHis reasons for sharing His most intimate heartfelt thoughts concerning the time He spent on earth. Jesus Christ: "The description of My Inner Life will be of great comfort and spiritual benefit to you. I want you to strive to imitate Me in all that I have revealed to you so far. Through you, a great number of people shall come to know and revere My heart."
'New Creation in Love' by Huayu Yang. Both Aslan and Krissy are young Mongolians in China. One grew up in the steppes of Inner Mongolia, and grew up in the city. The two became drug partners in a confused world but in her desperation, Krissy found the saving grace of Jesus Christ and shared her faith with Aslan. Now they are happily married with a son! This is a documentary filled with Mongolian customs and songs of praise. In a time of turmoil, fear, and feeling powerless, it brings hope and inspires people to find the true meaning of life.
Web Series:
'Little Image-Bearers | Jesus: The Savior'by Caleb Phipps. A web series for kids which teaches Christian values! In this episode, Mr. Phipps visits an EMT to discuss life-saving measures in emergency situations. In puppet pretend, Prince Bobo must get the key from the dragon to free Fair Lady Lala. Despite Bobo's best efforts, confrontation with the dragon is inevitable. After Bobo's display of courage, Mr. Phipps decides to create his own sword using household items.
Animated Films:
'Eating in Peace' by Caroline Tate. A huge dinosaur gets ready to eat dinner but is disturbed by an uninvited guest!
Music Videos:
'Amazing Grace' by Corine Gatti. A song about a God's Amazing Grace!
Scripts/Screenplays:
'Peace in the Valley' by Lisa Wassel. College gymnastics coach, JB, touches the lives of many with his simple philosophy. Because of his trust and belief in one student, lives are changed and his influence lives on for generations to come. Never underestimate the power of influence.
'Prince of Peace' by James Martins III. Jesus Christ, the Prince of Peace, reaches out to minister and heal both Jew and Roman in first-century Israel.
'Riding Life' by Lawrence Whitener. Based on the true story, 30 teen boys and girls rode out, but 30 grown-up came back after riding horseback for five hundred miles crossing The Continental Divide five times for two months. Fighting the elements and each other's prejudice while learning what is right, and what is truly important...in life.
'I Tell You No Lies' by Danetta Barney. Deception has three faces and is assigned to unsuspecting victims all recovering from various addictions, whose weaknesses has opened the door for the enemy to make his move.
Event Poster for the 28 January 2023 Christian Film Festival:
Official selections for the 28 January 2023 Christian Film Festival:
Feature Films:
'Broken' by Anthony Penney. A teenage girl named Lexi flees from her home after suffering years of abuse at the hands of her father. Through her journey and a strange connection with a man she meets along the way, Lexi finds hope and seeks to discover the beauty of God's plan for her life in the midst of the pain.
Short Films:
'Because I Could Not Stop for Death' by Eric Luthi. An assassin quotes poetry to his victims. One day the poetry comes back to him.
Documentaries:
'Vatican II: The Authority and Infallibility of the Pope' by Jarrod Thomas Knepp. A documentary which discusses whether the Catholic church is replacing God's authority and infallibility by giving too much power and influence to one man the Pope. Does Salvation come from the church or through a personal relationship with Jesus Christ?
'The American Good Samaritans' by Manvel Saribekyan and Man Pictures. This is a story about survivors, about extraordinary people thanks to whom remnants of the Armenian, Greek and Assyrian peoples were saved from total destruction. Their mission was to save human lives. The film is about those American humanists who provided invaluable assistance to the Christian nations during the First World War.
Educational Films:
'Voice of Zion' byDominic Gomez and Antony Michael Hylton. Voice of Zion through a series of important prayers and confessions helps saints to think about things that are above and to communicate Yahuwah's covenant to the next generation.
Music Videos:
'Into The Deep' by 3 Heath Brothers. 3 Heath Brothers are diving "INTO THE DEEP"! This energetic band of brothers created this video to illustrate to people of all ages the importance of going into a deeper relationship with God.
'Choose This Day' by Laura Poindexter. A movie short/music video that pokes fun at the church and how preconceived notions can cause us to miss a blessing.
Songs:
'Amazing Grace' by Corine. A song about a God's Amazing Grace!
Scripts/Screenplays:
'Reach' by Timothy Thompson. A disabled man must make difficult family decisions in the wake of his brother's untimely death.
'A Stranger's Message' by Cortez Mack. An inspirational story about the message of salvation.
'The Merriest of All Christmases' by Vic Webb Quinton. A once thriving Christmas destination lost the Spirit of Joy as the snow mysteriously stopped falling for three long years. Tourism completely stopped causing the businesses to suffer as a result. Everyone within the little town of Wintersvillehad lost the Spirit of Christmas...everyone but one young boy named, Cody. He campaigned every single day...spreading the message of Christmas and why that day was so important to celebrate the birth of Jesus. Will the town have a Tree Lighting on the square? Will Cody's family Tree Farm survive another year without Christmas tree sales? Will the snow come back to Wintersvilleas quickly as it left? All one has to do is BELIEVE.
'Age of the Kingdom' by Gary Ivey. A serieswith one-hour, biblical, historical drama covering multiple generations of several families in Israel's United Monarchy period. In the pilot, Eldadof Mizpahmust join the fight against an invading Philistine army to protect his family and a courageous woman must rescue her young orphan nephew from a burning city to keep the religion of Yahweh alive.
'Faith Comes By Hearing' by Ja'Mal Jones. After tragedy strikes her family, a woman's anger against God is challenged when her deaf daughter begins to hear messages from Him.
'A New Believer' by Ellie Mae Louise Smith. Mia, a 12 year old girl, who is a very strong Christian. She goes to church 2 times a week, always volunteering, and always helping others. The dad, late 30's early 40s James Smith, was once a church loving child himself,until his mother passed away from cancer when he was 12. Leaving him to live with his new found alcoholic father who also stopped in his belief after his other son Donald, was killed in a car accident. Neither father nor son couldn't understand how a loving God could allow such things to happen to them, and so they fell out of the life as a believer, always searching for answers he could not find on his own….until.
Event Poster for the 17 December 2022 Christian Film Festival: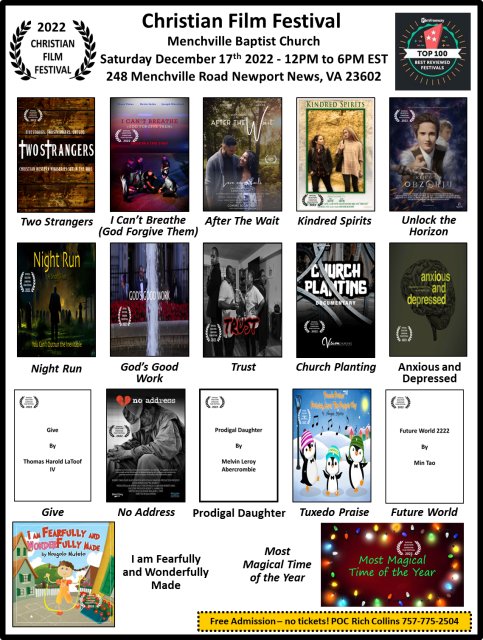 Official Selections for the 17 December 2022 Christian Film Festival:
Feature Films:
'Two Strangers' by James Michael Brunner. Two strangers show up in a small western town in the 1800s. The five adventures are straight from the Bible. The strangers reach out to five different individuals to try to get them to understand God's path for them.
'I Can't Breathe (God Forgive Them)' by Bobby Lacer. A modern-day story of Job based on the true story of Thomas Laresca. Laresca lived an average life in a quiet American town. Then in 1998, his life changed when he was wrongly arrested and abused by the police. By the grace of God, he survived this traumatic event.
'After The Wait' by Karen Stefano. After a great blind date and a promising relationship with a new guy starts, Ginny Blackwell's ex boyfriend re-enters the scene asking for another chance! What will Ginny do?
Short Films:
'Kindred Spirits' by Emily Giuffré. Two women, on opposite sides of the planet, speak together online for an interview about a simple short story. After a heated, misunderstood discussion about each other's countries, they find out that they have much more in common than they imagined and decide to meet in person.
'Unlock the Horizon' by David Sipoš. A group of unsuspecting children from a middle class Slovenian village led by Tončemeet a mysterious boy named Jernejwho charms them with many tales, but in the end they discover his dark past brings on many problems.
Mini-Films:
'God's Good Work' by Carey Burtt. God needs us as much as we need him.
'Night Run' by John Rush. A middle-aged man tries to escape a haunting.
'Trust' by Sansebastian Stewart. A married couple deal with relationship problems
Documentaries:
'Church Planting' by Clayton Marc Joutet. Is church planting still possible and relevant in western Europe today? Let's meet incredible people that have started this adventure of faith. Travelling across western Europe, VCI founder Nick Klinkenberg and Filmmaker Clayton Joutet meet with these people and show us what they see.
'Anxious and Depressed' by Erik Hildebrandt. 43 million people in the United States have been diagnosed with a mental illness. Travel on a journey across the country meeting with world renowned speakers and doctors as they help to uncover the root of what is causing a world wide mental health crisis.
Animated Films:
'Tuxedo Praise' by Nongolo Muteto. Enjoy the Penguins as they sing and dance for Jesus!
Music Videos:
'Most Magical Time of the Year' by Alan J. Chriest. A festive Christmas music video!
Song:
'I am Fearfully and Wonderfully Made' by Nongolo Muteto. A song that lets children know God made them.
Scripts/Screenplays:
'No Address' by Julia Verdin and James Papa. A group of homeless people bond together as a family, struggling to survive the streets while fending off a harassing gang, an unforgiving community and the local authorities in hopes of finding their humanity again.
'Prodigal Daughter' by Melvin Leroy Abercrombie. We all know the story of the Prodigal son, what if the daughter decides to take her inheritance, runs away and after several years wants to return? will the father accept her back?
'Give' by Thomas Harold LaToof IV. Tim, the protagonist, is a kid without true faith in God. As a result of an unselfish act, he regains his faith and trust in God.
'Future World 2222' by Min Tao. A story in the future in 2222.
Event Poster for the 26 November 2022 Christian Film Festival: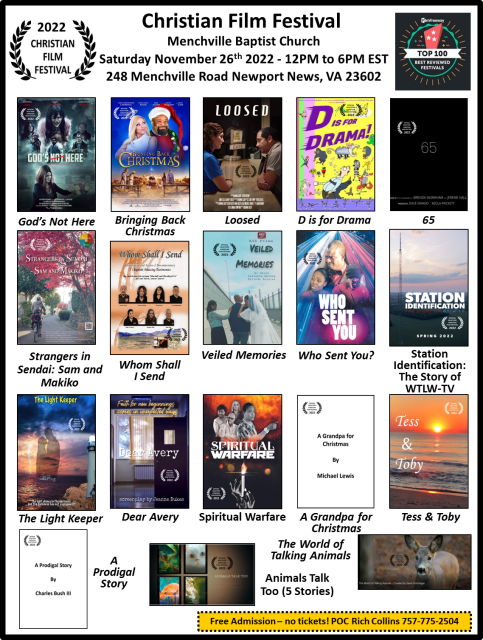 Official Selections for the 26 November 2022 Christian Film Festival:
Feature Films:
'God's Not Here' by Matthew Cichella. The first ever faith-based anthology featuring four stories about love, hope and most of all, forgiveness.
'Bringing Back Christmas' by Damascus Road Productions. It's two weeks before Christmas and Daniel Reece has just been fired after 17 years of service and right before his son, with special needs, is slated for an expensive surgery. Daniel's hopelessness cues a sassy angel, disguised as a Hobo, to take Daniel on a humorous and inspiring journey back in time to witness the trials of Joseph and Mary before the very first Christmas, which reminds Daniel how God's love can carry him through any challenge.
Short Films:
'Loosed' by Brianna Sacry. "Loosed" is an adaptation of "Cain Town", "Loosed" is a story of faith over fear when past trauma resurfaces in relationships.
Mini-Films:
'65' by Dave Siriano. Every life deserves to be lived. But could this really happen?
'Veiled Memories' by Al Davis. A man who seeks to find out a mysterious woman from his past. Someone that played a part in him losing his memory. As he finds clues of who she might be, the answer isn't easy as the only other person who knows who she is might be closer than he thinks.
Documentaries:
'Whom Shall I Send' by Joshua Campe. A Faith-based inspirational documentary featuring 7 Las Vegas Chaplain Testimonies, from Retired 1st Responders to Spiritual 1st Responders answering the call of the Lord.
'Station Identification: The Story of WTLW-TV' by John P. Ondo. They said it could never be done. The untold story of the vision of one man to bring a faith-based television station to one of the smallest television markets in the nation. forty years later the incredible team shares the ups and downs of their mission to impact their community with hope.
'Strangers in Sendai - Sam and Makiko' by Atsushi Kadowaki. A documentary by Sendai filmmaker Atsushi Kadowakiwho tells the story of two interesting people living in his city; Samuel Martin, a missionary, and Makiko Nakagawa, who supports international exchange activities.
Animated Films:
'D is for Drama' by Brad Condie. A sardonic retelling of the English alphabet.
Student Films:
'The World of Talking Animals' by Samir Parag Kshirsagar. This short film is with animals talking funnyand is an action, adventure, comedy, fantasy film. Animals are talking in funny voices. A deer (doe) is running for its life, being chased by a wolf.
'Animals Talk Too(5 Stories)' by Samir Parag Kshirsagar. This short film is with animals talking funnyand is an action, adventure, comedy, fantasy film. There are 5 stories with animals that talk funny. In each defenseless baby animals are threatened to be eaten by a predator.
'Spiritual Warfare' by Isaac Odeniran, Sola Oyin-Adejobi, and Sam Adigun. Akin is a businessman with many enemies. Unknown to him both his business and father's home have been taken over by dark forces. He comes to the knowledge of all this in the middle of his life but can he fight the good fight of faith?
'Who Sent You' by Isaac Odeniran and Seun Jonathan. Exploring the balance between Faith and Life 'Who Sent You' is a question we are posed with concerning life choices. Whether that is in our day to day job, place of study or in a position of leadership.
Scripts/Screenplays:
'Dear Avery' by Jeanne Dukes. When a hospital's first woman chaplain seeks divine guidance, she is answered with a surprising letter that not only impacts everyone around her, but sets her life on a new course..
'Tess & Toby' by Erin Kennedy. Two former child co-stars reunite to discuss transcendent themes from their TV show. As they walk a journey together a search for meaning and purpose, they also navigate a bumpy romance along the way.
'A Grandpa for Christmas' by Michael Lewis. Renata Martinez has moved from LA to Oklahoma to stay with her daughter and grandson while her son-in-law is deployed with the military. Unbenownsed to her, her grandson has decided to play matchmaker for his grandma with Josh the handsome retired history teacher in town.
'A Prodigal Story' by Charles Bush. A rebellious son separates himself from his wealthy family to live an undisciplined life of decadence until his bad choices catch up to him. This is a modern retelling of the Prodigal Son.
'The Light Keeper' by Victor Webb Quinton. Stryker Patterson has lost his dream of a stellar football career, settling instead on being the town's lighthouse keeper, demonstrating faithfulness to keep the Light shining regardless of personal cost, not realizing the fortuitous impact of his choice.
Event Poster for the 22 October 2022 Christian Film Festival:
Official Selections for the 22 October 2022 Christian Film Festival:
Feature Films:
'Running The Bases' by Marty Roberts and Jimmy Womble. After uprooting his family and leaving the only home they have ever known, a small-town high school baseball coach hired by a large school learns that things run differently in the big city. For this nine-time state championship coach, winning is secondary to creating young men of character and integrity. But as a man of faith, he faces extreme opposition to his coaching methods from the school superintendent.
Short Films:
'Lead me to the Cross' by Patrick Alan Rivera. College student Diane looks for answers as a unexpected event happens to her. She learns that when you find true faith in God your answers to your questions comes much easier.
Mini-Films:
'What Is Life?' by Marcus Stilianos. Existential and philosophic Bible verses, to old film reel footage of people doing life.
Documentaries:
'American Woman' by Dr. Kimberly Johnson. This is the inspiring story of conservative women who dare to break ranks with the leftist narrative – and have the audacity to fearlessly stand up and fight for American values and our way of life.
Animated Films:
'The Power of Christ' by Nate Carroll. A Claymation animated film showing the power of Jesus!
Student Films:
'The Kite' by Matthew Grant Benson. A story of childhood, parenthood, and asking for help. Set in the 1930s, Robert, a young boy, wants nothing more than a brand-new kite, but what will his dad say about it?
Music Videos:
'Healer' by Jill C. Lewis. A Music Video that shows us Jesus heals!
Scripts/Screenplays:
'A Walking Miracle' by Slavica Bogdanov. Based on the true story of a young man's miraculous recovery following a car crash.
'Grip of Heaven' by H. Bruce Boulton. A biography of Annie Boulton written by her husband of 45 years. She was a woman of God who lived a devoted life, and her unwavering faith in Jesus at her death inspired her husband to write this book and share her story.
Event Poster for the 24 September 2022 Christian Film Festival:
Official Selections for the 24 September 2022 Christian Film Festival:
Feature Films:
'My House and God's House' by The Church of Almighty God. A Difficult Choice Between Family and the Truth! Li Mingyi'sentire family believes in Godand are very faithful, but his younger sister Li Lankeeps going down the wrong path. When the church votes to expell her, Li Mingyiis torn between listening to his church and his loyalty to his sister.
Short Films:
'Managed Agenda' by Reginald Gibson. Set in a parallel dimension of Earth in the year 5871 the Directors of the demonic hordes gather together for a meeting to go over plans to overthrow the United States and pave the way for Global Domination by Prince Pherick, the Prince of the Power of the Air! Their plans go awry when a small group raises their voices in defiance forcing Prince Pherickto rectify the situation.
Mini-Films:
'It's All Good' by Reginald Gibson. A thought provoking and powerful Micro Movie that follows a young woman's selfish decision and shows a Dr.'s pride which ends in death and redemption. Ending scene follows the credits.
Documentaries:
'The Pandemic of Social Isolation' by Alan J Chriest. In ancient times, homo sapiens relied on family and tribes for companionship and survival. Humans are social creatures. When our social needs are unfulfilled, we may experience mental and physical impairments and difficulties.
'The Cypriot Maronites' by Carmen Labaki. This documentary explores the ancient CypriotMaroniteswho inhabit Turkey and Cyprus, and whose name derives from Saint Maron! For over 1200 years they have struggled to keep their identity, language, traditions, and numbers alive through the good times and bad!
'Candles in the Window' by Grazyna Czerny. This movie tells the story of the liberation movement in Poland which helped bring down communism, and is told from the perspective of GrazynaCzerny who was a young Polish woman that was imprisoned by the communists in early 1980s. During the crisis President Reagan encouraged Americans to put candles in their windows at night to show solidarity with the brave Polish people. The film recounts the courage of the Polish people, the struggles of Lech Walessaand his labor movement 'Solidarity' which one key reforms, the work of Pope John Paul II who encouraged his people, and a priest named George Higgins who was a key member of the Pope's efforts to achieve freedom!
'Dominion' by Lindsey Ward. When a rancher discovers the life-giving power of regenerative agriculture, he seeks to heal the relationships between man and beast, nature and machine.
Web Series:
'The Bread Unlimited' by Shawn Patrick Greene. The Bread Unlimited Podcast pilot episode of the newest podcast by producer Shawn Patrick Greene. Guest for this episode is Senior Pastor Michael Stratton of the Bread of Life Church in Buffalo, New York.
Music Videos:
'Night of Dreams' by Matthew Galicinski. A young teen raised in an anger filled home is having an all too familiar fight with her parents, when she breaks down and cries out to God for help. God answers her prayer in the form of a dream by sending an angel to point her to Jesus. The teen accepts the free gift of life and is accompanied by other believers back to her place of darkness where she receives power by the Holy Spirit through the gift of the cross. The teen wakes up and the home is at peace, she then notices the gift she received is actually real. With a smile, she knows life will never be the same again.
Animated Films:
'Charlotte Yvette - Sally Shay's Birthday' by Debbie Harmon. Charlotte Yvette has been invited to her best friend Sally Shay's birthday party on Saturday, but lie's to get out of it to go to the movies with the popular girls in school she wants to be seen with. What lesson will Charlotte learn after her lie is found out and Sally's feelings are hurt!
Student Films:
'11/1' by Kyle Cornelison. A young man is confronted with the guilt of his friend's death. Can he move past this traumatic moment or will he remain trapped within it?
'Animals Talk Funny' by Samir Parag Kshirsagar. This short film is with animals talking funnyand is an action, adventure, comedy, fantasy film. At a farmhouse the animals are talking, having funny conversations. Then a cheetah is coming looking for food, chasing some of the animals, the farm dog chase it away.
'Grey Wolf (Animals Talk)' by Samir Parag Kshirsagar. This short film is with animals talking funnyand is an action, adventure, comedy, fantasy film. At a farm the animals are talking having funny conversations. A fox tries to eat the chicks, when a grey wolf chase it away saving them.
'Animals Talk Too' by Samir Parag Kshirsagar. This short film is with animals talking funnyand is an action, adventure, comedy, fantasy film. Animals are talking in funny voices, a huge snake is trying to catch and eat a squirrel, later a lioness that is protective of her lion cub eats the snake.
Scripts/Screenplays:
'Out of the Park' by Gregory Bonds. When a baseball-induced head injury gives him the ability to communicate with balls of all shapes and sizes, 10-year-old Willie Wilson and his new friends Valerie the Rubber Ball and Frank the Nerf Balluncover a plot by IgorCheckoutskiand his henchman, Winthrop, to turn Balls into drones and use them to cheat in an upcoming sporting event!
Event Poster for the 27 August 2022 Christian Film Festival: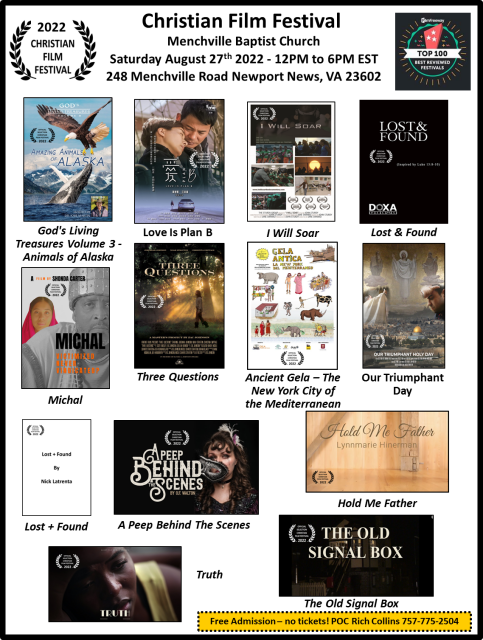 Official Selections for the 27 August 2022 Christian Film Festival:
Feature Films:
'A Peep Behind The Scenes' by Nicole Stratton. Based on the 1877 novel, this musical follows the life of Norah, a woman living the seemingly charmed life of a singer and actress on the stage. But as we get a glimpse behind the scenes, we come to realize that things are not always as they seem.
'Love Is Plan B' by Ka Fu Henry Poon. Based on a true story, a story of hope and love. While Kwok Sang Man was enjoying his pre-retirement family vacation in Hawaii, his wife Jing JingLim was infected with a rare and deadly virus in her brain. Although the doctors saved her she suffered permanent damage, severely affecting her memories, speech and mobility. As a result, Kwok Sang decided to leave a very rewarding career to provide full-time care to Jing Jingin the hospital and later at home for her recovery. To truly love somebody is to build a bridge of hope and then to cross that bridge with him/her when you are needed the most.
Short Films:
'Three Questions' by Zac Johnson. The wayward son of a good king seeks guidance after he is suddenly thrust onto the throne.
'The Old Signal Box' by Franco Demarco. An old railway men's ghost story. In the early days of the railway the signal system was very primitive hence many tragic accidents stories of ghosts sightings became common.
Mini-Films:
'Lost & Found' by Guillermo Fossa Olandini. A young student in the great New York City loses a valuable object that may seem insignificant to others, but is worth it for her.
Documentaries:
'Michal' by Shonda Carter. Michal: Story of Devotion, Dismissal, Devastation, and Devine Design is a documentary that dives into the life of Michal, daughter of Saul, wife of David (1 Samuel and 2 Samuel) – who looked for love in the wrong places and paid an ultimate price.
'God's Living Treasures Volume 3 - Animals of Alaska' by David Rives. What are God's living treasures? They are God's creatures which add joy and delight to our lives, are valued for their beauty and design, and enhance our world. These creatures' variety, design, and complexity point us back to the Creator, Jesus Christ, Who is also the loving Savior of all mankind.
'Our Triumphant Holy Day' by Greg Di Roma. The film chronicles filmmaker Greg Di Roma's journey on a pilgrimage into the Holy Land in Israel and Palestine with 28 other pilgrims in January 2020. The film explores major sites of the Holy Land and their impact on Salvation History. The pilgrims follow the footsteps of Jesus Christ and discover the human side of His story that highlight the true meanings of Love, Faith and Suffering. Along the way, the trip leads to a deep conversion in Greg's Catholic Faith and Life that he never thought possible.
'I Will Soar' by Jane Swanko. The is a true story about one city, one community high school and one coach who brought them all together and produced a winning football season with record numbers of first generation students attending university. An emotional roller coaster of many feel-good moments, the documentary explores Head Coach T.J. Jackson's success in providing guidance for the many players who live fatherless, delivering the nurturing and strength they need to graduate and be successful in life.
Web Series:
'Ancient Gela - The New York City of the Mediterranean' by Jacopo Fo. This movie tells the story of the ancient port town of Gela on the southern cost of Sicily, which was populated first by the Greeks, and then Romans, and on and on to the present day!
Student Films:
'Truth' by Bill Roberts. When the pastor's teenage daughter, Ruth, falls pregnant, she chooses to hide the pregnancy in fear of the possible repercussions. But when her daily duties at the Church get in the way, her deepest secret runs the risk of being revealed.
Music Videos:
'Hold Me Father' by Tammy Thompson & Lynnmarie Hinerman. This music video is a powerful reminder of how God holds us and supports us during life, especially when we go through hard times!
Scripts/Screenplays:
'Lost + Found' by Nick Latrenta. A group of teachers participate in a treasure hunt run by a mysterious custodian that changes their lives.
Event Poster for the 30 July 2022 Christian Film Festival:
Official Selections for the 30 July 2022 Christian Film Festival:
Feature Films:
'I Rise' by Favour Abu. Iganyais a talented, ambitious artist almost at the peak of her careerwhen starts losing her sight. She asks God to heal her, but when the healing she hopes for is not forth coming, she starts questioning her faith.
'Child of the Occult' by Zoe Films. OmoAwois the story of a man who is a Christian. His father is an occultist. His mother and other siblings died when he was two years old. His father has had struggles in business and family in his early life which has led his father to seek solutions from all spiritual and physical sources, including the occult. Omo is torn between his love of God and his love of his father.
Short Films:
'Asking Random People To Be In Our SPY MOVIE' by Andrew Kerekes. We wrote a script and asked random people to be in our Spy Movie! The script was top secret and the strangers are the only characters who didn't know what was going to happen. Watch how they genuinely reacted as they experienced the story unravel right before them!.
Mini-Films:
'Lazarus 2020' by Michael Bliss. A sign of the times! Lazarus comes back from the dead to honor life in Denver, Colorado.
'Jesus Loves Me (now how do I get him to stop calling?)' by Carey Burtt. Woman finds she is unprepared for happiness when the perfect man comes into her life.
'Alcalá Holy Week 2022' by Antonio Atilano Rodríguez. A holy week procession of displays that narrates the passion of Jesus Christ from his arrival in Jerusalem to His death and Resurrection.
Documentaries:
'Hope Lives in Hohenwald' by Kerry Pharr and Rob Blair. In Hohenwald, TN drug issues ran rampant. Out of options, the legal system turned to the local Church for help. Twelve churches of different denominations then created a coalition to save their city. This is the story of how a community of believers stepped up to fight and is winning the war on drugs and drawing many to Jesus Christ!
'World Overcomers: The 2020 Documentary' by Dimitri Hale. We as World Overcomers, alongside the rest of the world, had our lives shaken and drastically changed with COVID-19, the Presidential Election, unexpected deaths, and racial tensions to name a few. I sat down with my media team and at the beginning of the 2020 we began filming behind the scenes, so we could share our perspective and adjustments. This is WOCC like you've never seen us before.
'The Desire To Live' by Mariam Avetisyan. Stories of the indigenous people of Artsakh, after the recent 44 day war with Azerbaijan and suffering a devastating loss of lives and land. The desire to live is really a right to live on their lands and be protected by the threat of war, genocide and crimes against their humanity.
'The Resurrection of Jesus' by Holger Klussmann. The Love of Jesus in Our Lives. The film describes the resurrection of Jesus in Judaism, Christianity, and Islam. We will see glimpses of the lives of Therese Neumann and St. Francis and some people are talking about their personal experience with the presence of Jesus Christ.
Web Series:
'Haven' by Renee Michaels. After losing her parents, Alina must find her way to Haven, her only safety. She is taken in by two Remnant Rebels, also on the journey to fine Haven but Collective Soldiers are quickly closing in.
Animated Films:
'Teddy Bear Jesus' by Andrew Kerekes. A little girl is asked to give up her favorite teddy bear.
Music Videos:
'Asking Random People To Be In My Music Video' by Andrew Kerekes. We asked random strangers to be in our music video!
Scripts/Screenplays:
'Bad Seed in the Community' by Jody Morimer. In a society based on the moon Jodythe community drunk is chosen to fulfill a spiritual and galactic purpose.
'Khaki Chums' by Lawrence Thelen. A Hallmark-type Christmas film (with carols) recounting the WWI Christmas Day Truce between British and German soldiers, 1914.
Event Poster for the 25 June 2022 Christian Film Festival: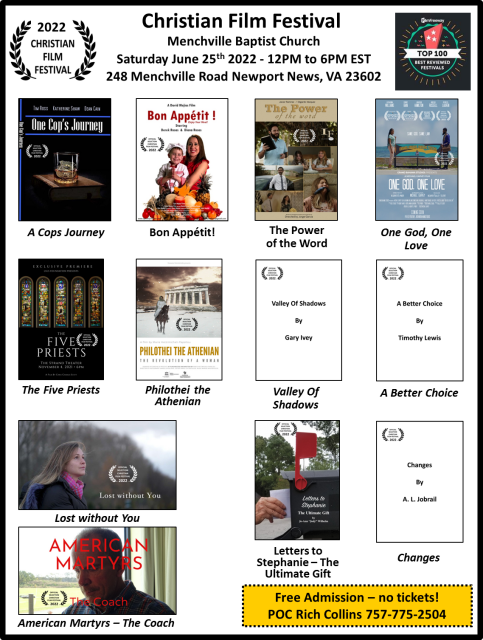 Official Selections for the 25 June 2022 Christian Film Festival:
Feature Films:
'One Cop's Journey' by Jason Campbell and Keith Knotek. The true story of a police officer's battle with depression, post-traumatic stress, and alcohol; and how he overcame them through his relationship with God.
'The Power of the Word' by Jorge Garcia. A young business man's greed and love of money ends up threatening everything he has including his family.
Short Films:
'One God, One Love' by Michael Antonio Garvey. Two people of different faiths cross paths and are divinely made to work together to help someone in distress
Mini-Films:
'Bon Appétit!' by David Mejias. A visionary child with a passion for drawing portraits. Share his drawings with his mother. But mom also has a passion for something else and wants to share it with her son. That passion is the art of cooking. Together in the kitchen, mother and son combine their unique skills and prepare a delicious dish. A short film demonstrating how wonderful it is to have fun with your loved ones. To appreciate spending quality time together and to be grateful for the memories.
Documentaries:
'American Martyrs: Episode 3 - The Coach' by Andrew Thomas. Shares the story of Kurt Beathard, a former college football coach who lost his job and career after boldly professing his Christian faith. The third episode of the original docuseries "American Martyrs."
'Philothei the Athenian – The revolution of a woman' by Maria Papaliou. The story of a Greek woman called Philothei! In the sixteenth century, during the Ottoman rule, an Athenian noblewoman dares to defy the authority of Suleiman the Magnificent. She frees men and women from the slave markets, paying for their liberation from her personal fortune. She helps them escape or keeps them free to live off the land that she offers them from her estates, where all equal, regardless of religion and ethnicity.
'The Five Priests' by Chris Charles Scott. This documentary feature with cutting-edge animation relates the story of five Roman Catholic priests who made the choice to lay down their lives in the third-worst epidemic of Yellow Fever in United States history, which occurred in Shreveport, Louisiana in 1873.
'Lost without You' by Rath Chunharuckchot and Pattarine Fontaine. A young woman shares the struggles she had as a teenager with problems like low self esteem, and how God brought her through it all.
Scripts/Screenplays:
'A Better Choice' by Timothy Lewis. A young man struggles to find purpose and God after his father dies in the war.
'Changes' by A. L. Jobrail. Teens out for fun pick up a hitchhiker. He changes their lives as well as that of their friends.
'Vale Of Shadows' by Gary Ivey. After he is shot, a drug dealer is reunited with a high school friend who tries to help him have a better life, but first they must both battle the seen and unseen forces swirling around them.
Event Poster for the 28 May 2022 Christian Film Festival:
Official Selections for the 28 May 2022 Christian Film Festival:
Feature Films:
'Letters to Stephanie' by Jo-Ann Bierer Wilhelm. A woman's infant granddaughter is placed for adoption. Social Services tells her that her only legal right to her granddaughter is that she can write a letter without any identifiable information in it to her. The letter will be placed in the adoption file that the child will have access to when she's 21. The grandmother puts clues to the birth family's identity in her letter. She then begins her longest running prayer that one day her granddaughter will want to see her adoption file and they will be reunited.
Short Films:
'Silent Night' by Barbara Medajska. It is Christmas in Poland and travellors on a train tell where they go for Christmas and why. There is also someone in love who is waiting for his loveto show up.
Mini-Films:
'Path of Faith' by Filipe Piteira. What is the reason for so much suffering in a world that has a God? Ismael, who has always been a believer, begins to question his faith and seeks advice from a small church.
'Knock Knock' by Dario Andrew Shields. Everything that they believe in is tested when Mark, a prominent pastor and his wife invite a stranger to join them for dinner.
'In Closing' by Ira Mallory. In Closing explores the closing of iconic Broad Ripple High School in Indianapolis, IN. Alumni and two community activists seeking to halt the closing provide sharp prospective.
Documentaries:
'Survivors' by Kay L. Sumner. Real-life testimonials of Opioid addicted 'everyday people'. What got them there and how they successfully overcame a potentially tragic outcome & rebuilt their lives.
'Send Proof' by Elijah Stephens. Millions of people claim to have experienced miraculous healing. Send Proof asks the question "Where's the evidence?" When his former pastor leaves the faith, Director Elijah Stephens embarks on a journey to find evidence for miracles. Along the way, he interviews atheists and skeptics, medical researchers and academics, and those claiming to have experienced miraculous healing. Will he find the proof he seeks?
'Valley of the Shadow: The Spiritual Value of Horror' by Tyler Smith. Can a movie be evil? In thisnew documentary, director Tyler Smith and host Bill OberstJr. explore the world of scary movies, finding the psychological, emotional, and spiritual complexities within the genre. The result is an academic celebration of film and its ability to engage and challenge its audience.
'I've Had My Good Day' by Tim Courlas. When a young man achieves greatness as a Master Penman, he turns his back on the art form until, decades later he is rediscovered and championed to icon status.
TV Series:
'The Save' by Dale Fabrigar. A wealthy Texas man spends his wealth to help total strangers.
Music Videos:
'Gaslighted' by Banjii and Mayuri. A Music Video featuring a family Dad Banjii, Mom Mayuri, Son Edwin, and daughter Willow, traveling through North Georgia trying to find a home for their Edwin's toy Llama!
Scripts/Screenplays:
'Two Nights at the Pine Street Inn' by J Christopher Haslip. A man gives up all his worldy posessions to become a homeless person to get closer to God.
'The Movement' by Dina Six. A country boy turned rockstargets thrown for a loop when Jesus shows up at his concert in the desert which sparks a global revival.
'Letters to Stephanie' by Jo-Ann Bierer Wilhelm. A woman's infant granddaughter is placed for adoption. Social Services tells her that her only legal right to her granddaughter is that she can write a letter without any identifiable information in it to her. The letter will be placed in the adoption file that the child will have access to when she's 21. The grandmother puts clues to the birth family's identity in her letter. She then begins her longest running prayer that one day her granddaughter will want to see her adoption file and they will be reunited.
'Buon Natale' by Leonard Varasano. An immigrant brightens the lives of orphaned children while harboring dark memories from the madness of Nazi-occupied Europe. (Inspired by actual events).
Event Poster for the 23 April 2022 Christian Film Festival: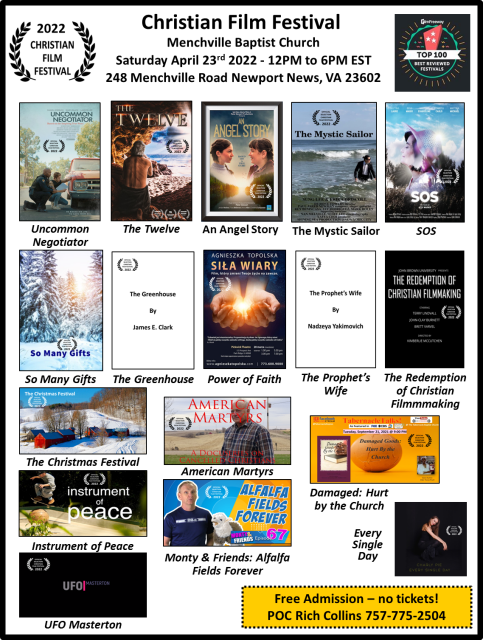 Official Selections for the 23 April 2022 Christian Film Festival:
Short Films:
'An Angel Story' by Peter Stewart. A woman in need is helped by an Angel.
'Uncommon Negotiator' by Brian Glassford. A young pastor's world is turned upside-down when he's suddenly thrust into a dangerous hostage situation. The only way he'll be able to get anyone out alive is by bravely reaching out to appeal to the soul of a violent gunman.
'SOS' by Alexandre Wagner. A depressed woman decides to end her life, but an event will activate her survival instinct.
Mini-Films:
'The Mystic Sailor' by Deirdre Towers. Sailing through life is the philosophy of this actor/empath/cameraman. Only near the sea does he feel completely free. By aligning with nature, he can fathom his own nature.
'UFO Masterton' by Jody Mortimer. A UFO hunter goes to Masterton New Zealand to investigate a report of aliens.
Documentaries:
'Instrument of Peace; the Brother Gabriel Story' by Nolan Uebelhor. The story of the skateboarding monk.
'The Redemption of Christian Filmmaking' by Kimberlie McCutchen. Over the years, the Christian film industry has had their ups and downs. Through the perspectives of three professionals, we discover the history of Christian filmmaking, what has happened along the way, and what the future holds for the Christian film industry.
'Damaged: Hurt By The Church' by Curtis Welch and Michelle Elaine Pierce Mobley. This story talks about the people we trust who hurt the very people they are supposed to protect.
'Power of Faith' by Agnieszka Topolska. A documentary which shows us faith is important.
Animated Films:
'Monty & Friends: Alfalfa Fields Forever' by Kyle W. Lloyd. Al Paca disobeys his mom but thinks he can get away with it but soon learns there is always a consequence to our disobedience and sin.
Music Videos:
'So Many Gifts' by Alan J. Chriest. A Music Video that reminds us there are so many gifts to be grateful for.
Trailers:
'Trailer for 'American Martyrs'' by Andrew Thomas. Trailer for "American Martyrs," a docuseries about cancelled Christians in America
Songs:
'Every Single Day' by Charlie Pie. A song that tells us love is a choice you have to make every day.
Scripts/Screenplays:
'The Prophet's Wife' by Nadzeya Yakimovich. The story of Moses' wife.
'The Greenhouse' by James E. Clark. After a brutal tragedy an L.A. abortionist retreats to a simpler life where he raises plants in a greenhouse that are inhabited by the souls of babies he aborted - and they communicate with him.
'The Twelve' by Michael Droberg. After being exiled to an island prison by the Roman Emperor, the last disciple of Christ must carve out his own existence, battles against the elements, solitude, and an evil incarnate who seeks to destroy him.
'The Christmas Festival' by Byron Anderson. This is a country-themed romantic comedy set in a small town during the Christmas season. The main character is a female CPA in her 30's and her love interest is a farmer, 30's, who we learn is a talented musician. A mysterious good Samaritan provides some comedy and helps spark the romance and the story of the female lead saving her grandfather's church from bankruptcy. The story is driven by the themes of second chances and faith.
Event Poster for the 26 March 2022 Christian Film Festival: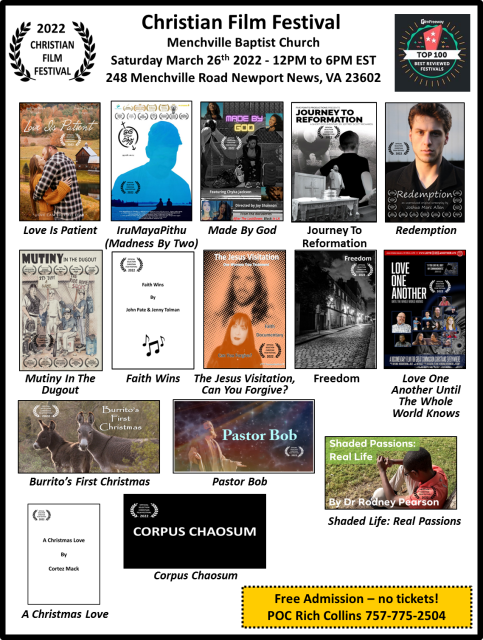 Official Selections for the 26 March 2022 Christian Film Festival:
Feature Films:
'Love Is Patient' by Ashley Hays Wright. An isolated women trapped by fearwill find a handyman sent by God.He will try to fix more than her barn doors.In this romantic comedy you will laugh and cry.When love comes knocking will fear keep her imprisoned, or will she take a step towards freedom?
'Corpus Chaosum' by Carey Burtt. An experimental film that explores how in each person there is good and evil, hate and love, a left brain and a right brain, peace and war, sin and forgiveness, and truth and lies. A recurring theme is the CatharChristian people in France who believed some strange things, and after a failed attempt to convert them, the Catholic Church had the entire population exterminated as heretics in the 14th Century.
Short Films:
'IruMayaPithu (Madness by two)' by Arun Sekar. Three friends struggle with the meaning of life when one gets hit by a car.
'Journey To Reformation' by Jeffrey Richards. Jeff was an atheist, and midnight film director. 10 years later, he is in the ministry and making films that align with his Christian faith. This is his journey and testimony.
Mini-Films:
'Shaded Passions: Real Life' by Dr. Rodney Pearson. The pain of young Lewis as he reads a letter from his dad explaining why he left the family and life goes on.
Documentaries:
'Love One Another Until The Whole World Knows' by J. Matt Wallace. A handful of individuals strive to authentically discover and live out the commandments of Jesus and the Bible: to Love God, Love Others, and Make Disciples!
'Pastor Bob' by Curt Gienger. Short Documentary about Pastor that spread the word of the Gospel using magic and puppetry!
'The Jesus Visitation, Can You Forgive?' by Joshua Campe.A Faith-based Documentary Short of a woman's testament to receiving a Jesus visitation and the fruit and kingdom building that came after. Victorya'strue testament, and Jesus asked, can you forgive?
Animated Films:
'Burritos First Christmas' by Jonathan Able. A Christmas Bedtime Story - about the little Burros that knew and loved Jesus.
Music Videos:
'Made By God' by Joy Shannon. The music video looks at the importance of helping the less fortunate during the pandemic. With a powerful ballad and scenes of a young woman helping a homeless person, it is a reminder to us all that 'each one must reach one'.
Songs:
'Faith Wins' by John Pate & Jenny Tolman. A song about how life has it's ups and downs, but in the end Faith wins.
Scripts/Screenplays:
'Mutiny in the Dugout' by Rod Kent. Lured home to his "dying" father's bedside, Charlie finds himself at the center of a righteous mutiny by hundreds of little league baseball players as he tries to coach his dad's team to the world series.
'Freedom' by Tia King. A woman finds herself struggling with the weight of her past when becoming a newly consecrated nun.
'A Christmas Love' by Cortez Mack. An inspirational story about a family showing that love is the greatest gift during the Christmas season.
'Redemption' by Joshua Allen. A meeting of two strangers, each discovering that they have something they can learn from the other. As their respective pasts keep drawing them back into old habits; they work together to forge a new future.
Event Poster for the 26 February 2022 Christian Film Festival:
Official Selections for the 26 February 2022 Christian Film Festival:

Feature Films:
'Growth' by The Church of Almighty God. Liang Xinjing'sis a Christian who lives a happy life with her husband and daughter in China but her faith is tested when she is forced to flea when the Chinese Communist Party begins persecutions in her area.
'Tales From The Chuck Wagon' by Jason Watson. A film featuring the music of Cowboy singer Jeff Gore. A group of cowboys spend an evening around the chuckwagontelling the stories of where they came from. Jeff sings songs that compliment each cowboy's story.
Short Films:
'Mahogany's Revelation' by April Mial. Is she being used for a global agenda regarding prophesied technology? Mahogany Fox is eager to prove herself for love and makes a life-changing decision that impacts her life forever.
'NetCafe' by Tedeschi Massimiliano Domenico. A thriller short film, a mysterious serial killer who puts anxiety and fear across the country.
Mini-Films:
'Shallow Depths' by Luke Riether. Following the death of his daughter, the broken-hearted father replays the memories of her life's moments in an alternate reality.
'The Coin' by Luke Riether. When an abused teenage girl searches for an escape from the clutches of her evil step-dad, she places her hope within a rare coin.
'The Golden Crown' by Gerry Manus. A Christian Inspirational Film.
Documentaries:
'Sparks: The Ken Sparks Story' by Jeff Joslin. For 46 years, Ken Sparks devoted his life, despite the sacrifices it demanded of him, to coach the game of football in such a way that it led players, coaches, families, and fans to Christ, and in so doing made the man a legend. At the end of his career and life, he had ended up being the 5th all-time winningest coach in NCAA, in front of Bear Bryant of Alabama, and behind Bobby Bowden of Florida State University. He also was the all time winningest coach in the NCAA DivII. His record was 338-99-2.
'God Our Refuge' by Ryan Paul Buck and Cyndee K. Buck. In the midst of a global pandemic, Minnesota teens sought God as their refuge and reflected their journey through visual art. This is their story of how God revealed His love and provision to them and changed their lives.
'Church Folk' by Dr. Michelle Elaine Pierce Mobley. This documentary discusses how the dysfunction in formal church organizations can turn people away from organized religion.
Animated Films:
'The Protectors of the Wood - Phoebe Comes Home' by John KixMiller and Tamara Kachelmeier. The Protectors of the Wood Adventure Series is an illustrated story of a group of teenagers who save the world from climate change.
Student Films:
'Test of Faith' by Ekramy Maher. The modern day story of Job and the struggles he has to face.
Music Videos:
'They Want Everything' by Troy Williams. Popular single featured on Mahogany's Revelation Soundtrack.
Scripts/Screenplays:
'Fall' by Nicholas Langan. When Lucifer decides to overthrow God, he pleas with archangel Michael to join him.
'Hope' by TiennyThe. A baby inside the womb questions every external stimulus, sound and surroundings. He speaks out his deepest honest fears perspectives.
'Oy-Vey Maria' by Drew Henriksen. When the daughter of a Rabbi marries the nephew of a Nun, their parents friendship might be blossoming into something more.
'Slippery Seal Faces the Evil Scary-faced Monster' by Linda Ardinger-Mateo. Slippery, a troubled young seal with a bravado attitude, awakes to find his body is breaking out with rocks. He has trouble with school ,home, and peers. He questions whether his father loves him. His faith in Jesus is tenuous at best. He learns from his unconventional fairy seal godfather that Slippery must defeat the Evil Scary-faced Monster that is terrorizing the seal colony before the clock runs out ,or, Slippery will become a rock forever! The two embark on an adventurous ,transformative journey. It is gradually revealed that Jesus is his protector, rescuer and key to his victory.
Event Poster for the 22 January 2022 Christian Film Festival:
Official Selections for the 22 January 2022 Christian Film Festival:
Feature Films:
'As it is Written' by Vincent Nel, Christopher Sotelo, and Philip Piserchio. An original stage musical. Journey through the Bible as a father reads the Good Book to his daughter and the characters come to life on stage.
Short Films:
'Letter In The Sky' by Celina Igwe. Every inspiring Christmas story is made complete by a wish fulfilled. With but a letter and a balloon, a young girls wish embarks on a journey towards fulfillment. All it needs to do is land into the right hands.
'Missionaries' by Jorge Garcia. Deep in the forest, 3 missionaries enter a village to spread the gospel. But, they immediately meet resistance, to the point that they are threatened with death.
Mini-Films:
'Such A Good Boy' by Cheryl Felicia Rhoads. A woman grieves the death of her beloved dog, Dillon. Meanwhile, Dillon is busy talking to God about joining the heavenly choir!
'Life, Is My Choice' by Carrie Simon. A woman planning an abortion has second thoughts when she hears the heartbeat of her child.
Documentaries:
'A long way back' by Dmitrii Omelchenko. The protagonists of this film have spent their lives searching for freedom, while at the same time escaping loneliness. The choices they made each time led them to new trials, and life punished them again and again. At some point they found out about a religious community whose ministers help people who are in a difficult life situation. And now the heroes of the film, in their opinion, are on their way to long-awaited freedom. This longed-for freedom has already taken a lot away - time, youth, health, friends.
'Unfinished Business' by Cj Espinal. This film follows the journey my brother has been on of chasing his dream to become a professional baseball player but also documenting his growth as a child of God.
'Faith Walk' by Kristin Dickerson and Peter Fleisher. To create their first documentary, Camino de Santiago Faith Walk with Kristin and Peter, the married couple carried multiple cameras, a laptop and a drone across Spain to capture their 500-mile pilgrimage. They share personal insights into their life-changing experience and the people who helped guide their path to transformation, while weaving in the significant history of this ancient journey.
Animated Films:
'The Great Controversy between Good and Evil' by Attila Iacob Peli. Captivating viewers with stunning illustrations, Hope Discovery's animated film - THE GREAT CONTROVERSY - offers answers to the most compelling questions of human existence. While fighting for his life, Samuel has a vision of an angel who takes him on a thrilling journey through earth's history - from the Garden of Eden to the Second Coming of Jesus - highlighting universal themes of loss, brokenness and hope. If you've ever questioned how God could allow human suffering, or what the purpose of existence is, this film could provide the answers you need.
Student Films:
'Artistry in Air' by Beth Lewis. From autopilots to air show pilots, the Younkin Family of Northwest Arkansas has mastered what many people only dream of in becoming one of the premier families in aviation. Through their innovative spirit and extraordinary talent, they have enriched the industry by preserving its history, inventing ways to make it more efficient and by creating breath-taking, one-of-a-kind performances. This documentary provides an intimate look at the lives of Jim, Bobby, Matt and Amanda Younkinand the passion that has propelled their expertise into an art form and given the Younkinname iconic status in the world of aviation.
'Peaches' by Benjamin Hunt. Based on a true story, Peaches follows young Eliza, the first female member of the local Scout troop. Determined to help others, she competes in the troop's canned food drive. However, constrained by poverty, Eliza must decide whether or not to donate her last can of peaches and risk going hungry.
Music Videos:
'Life is Like a Country Road' by Ernest and Susan Wolf. Life is like a country road with many twists and turns, and we need Jesus to show us the way!
Movie Trailers:
'End of Youth Movie Trailer' by Carlos Camargo. Official trailer for the upcoming feature film, End of Youth. A faith based, tribulation story about defiance set in the near future. Inspired by the global humanitarian crisis of Christian persecution.
Scripts/Screenplays:
'Book Women' by Wanda J. Cramer. A fictional story based on historical event; a group of women band together to deliver books to towns by horseback and buggy. A young girl, who lives with her grandmother is befriended by a woman who teaches her to read and become a woman who leads others to find value in the written word. A story of hope, faith and love.
'The Paperboy Chronicles' by Steven C. Martin. A wise and loving father challenges his 10-year-old son to get a job in order to purchase a brand new 1975 Schwinn Stingray bicycle. Residing in the small town of Ojai, California, Steven's only option is to become a Paperboy… and so the adventure begins!
'On A Shoestring' by Billie Harris. Amid the Covid pandemic, a woman's job is eliminated. With her unemployment payments stuck in limbo for months, she and her teenage son must resort to living on the street with the homeless, the same people she abhorred previously. They meet up with a friend from the past in the same predicament and through his friendship, learns the meaning of love and compassion.
'Special Delivery' by Jimmie Smith. A young Marine and his fiancé are separated due to an unexpected deployment!
Event Poster for the 18 December 2021 Christian Film Festival:
Official Selections for the 18 December 2021 Christan Film Festival:
Feature Films:
'Time Boys' by Randy Allan. Four boys from 1908 are thrown into 2016 when they accidentally use their father's secret time machine. They have to "fit in" in 2016 while they seek to build a time machine that takes them home. The four "time boys" actually play their instruments in "The Battle of the Bands." The all original soundtrack includes performances from rock and roll legends such as Dee Snyder, Corey Glover, Al Pitrelli, Derek Sherinian, Eric Gales, Jeff Scott Soto and more.
'Zarephath' by Taysha McFarland. When a widow is down to her last meal, she heads out through the famine-stricken lands in the futile search for more food for her unwell son and herself. While transversingthe vast terrain, she stumbles upon a homeless man who offers her something better than food. She invites him back to her home, where she discovers that there is more to this mysterious stranger than she first thought.
'Vincent's Vow' by Ducon Williams. A young man named Vincent, the product of a broken home and trauma from his sister's early death, is determined to find out the true meaning of Love, and win the heart of a special girl named Lena. A story of commitment and vows, and definitions of love that the world at large has all but forgot.
'The Lonesome Trail' by Arlette Thomas-Fletcher. A film about a small town in Montana in the 1890's called Red Springs that is run by a ruthless rich man named Mr. McCray who frowns on poor homesteaders moving into the territoryand doesn't want anything to change the current way of life in the town. Changes start happening when Preacher Brent Carson comes to the town and changes the perceptive of the town's peoples as he befriends a black family that is drifting through the town and he convinces them to make it their home. This creates an explosion of beliefs and emotions which divides the town among the homesteaders and those that work for the landowner.
Short Films:
'Christmas Cheer' by Alyssa Geise. Megan, the captain of the local high school cheer leading squad, has been volunteered to work at the local food bank by her father during her Christmas holiday break. Megan is quite distressed as she wanted to shop and hang out with her two best friends. Through her volunteering, Megan learns all about "doing for others" instead of "getting what she wants". She also gains a few more relationships along the way.
Mini-Films:
'Dinner Table' by Cortez Mack. A story film about the disconnection of the family.
'The Contract' by Sansebastian Stewart. A young man tries to break the contract that he made with dark forces. He can't do it himself, and calls for help.
Documentaries:
'Cyrus Nations' by Stephen Briggs. Thousands of years ago God vowed to Abraham that He would "bless those who bless you, and curse those who curse you" (Genesis 12:3). Many individuals, nations, and empires have put God's word to the test. As one of the greatest superpowers the world has ever known, has the United Kingdom's history proved the potency and longevity of God's ancient covenant with Abraham and his descendants?In ancient times King Cyrus had a unique call to restore the Jewish People to their homeland. Is the UK a modern-day Cyrus?
'A New Day 1' by Topher Hall. Every year 600,000 men and women return to our communities from incarceration. 95% of prisoners will one day come home. As a result of their criminal record, they face significant barriers to housing, employment, and other elements of a productive life.For Hajee, Jason, and Alona, the first year out of prison is critical to their success. Can they stay the course?
'America and the Israel Effect' by Stephen Briggs. The annals of history record the rise and fall of countless empires, nations, and individuals. In ancient times, God vowed to Abraham and his descendants that He would "bless those who bless you, and curse those who curse you" (Genesis 12:3). Is there a link? The United States of America is one of the wealthiest superpowers the world has ever known. Has this unique nation evidenced the continuing dynamic power of this covenant promise?
Educational Films:
'Your Labs Are Normal' by Jean Pierre Kathoefer. When Rhisa, an otherwise healthy woman in her 20s, falls ill with debilitating headaches, fatigue, and chronic pain, she and her loved ones search New York for a diagnosis. Even as Rhisa'shealth deteriorates, doctors insist that her lab tests don't indicate illness. Wracked with pain and dismissed by healthcare professionals, she falls into despair until a chance encounter with a nurse finally gives Rhisaher answer: for years, she's been suffering from undiagnosed Lyme disease.
Music Videos:
'All in our Hands' by Alan J. Chriest. When storms arise and the ground is uncertain, let the light within you be your guide.
Scripts/Screenplays:
'In The Locked Upper Room' by James B. Saunders. Astory that tells of Jesus and the Apostles from after the crucifiction, to the ascension, and onto the beginning of the early church!
'Harper Le and Me' by Don Thompson. A mid-life crisis prompts a depressed but highly intelligent and sensitive man to research and understand one of the world's greatest novels and its author, Harper Lee. During this process of self-discovery, he regains faith in himself and reconnects with his family.
'Jessie' by John McCarney. An elderly passenger confronts a mysterious young stranger on a city bus in 1955 Alabama.
'Nurse Christy Saves Christmas' by James M. Russell. The story of a fledgling R.N. who finds herself surrounded by chaos as she battles to save Christmas when an unconscious Santa is transferred to her ward on Christmas eve.
'Deceived' by Karen Stefano. When their son is brutally murdered, it's up to two determined parents to see his killer(s) brought to justice. How far will they go in their quest to find the truth?
Event Poster for the 27 November 2021 Christian Film Festival:
Official Selections for the 27 November 2021 Christian Film Festival:
Feature Films:
'Gods and Spies' by Garry Matheny. Based on a true story about a young man who reluctantly enters the navy and becomes a diver to please his father, but later finds himself in the most dangerous spy mission of the Cold War.
'No1' by Oladipo O'Fresh. Peter, a child from a devout Christian background let go off his guard for a moment and joined with friends to pursue wealth from cyber crime and internet fraud... The desire for greater wealth soon pushes him to take things a step further... and events that followed wasn't pre-planned or prepared for, he now has to journey to make all wrongs right...
'I Want Out' by Zoe Films. A woman marries for money and ends up ruining her life!
Short Films:
'Fahrenheit 3:16' by Timothy Bennett. The government is trying to find all the remaining bibles on earth and burn them, but one Christian is determined to preach the gospel.
'The Meaning: God's Choice' by Kitsy Dixon. One teenagers mistake becomes another woman's blessing, when they both decide to allow God to define the meaning of life in, and through, Him. The outcome produces life out of tumultuous life circumstances.
Mini-Films:
'Seasoned' by Aretha Tatum. After 30 years, three friends finally form a singing group to prove to themselves and others that it is never too late to live your dream.
'Identity 7' by Meeyong Choi. Story about a man, who has gone through relationship breakdowns and failures in his life, looking for his real identity.
Documentaries:
'Frei (Brother)' by Nick Goryachkin. The story of a German Franciscan priest Hans Stapelwho worked for 40 years all over the world serving Christ and his flock. He started 'Family of Hope' ministry in Brazil which focused on helping those afflicted with drugs, alcohol, and depression, restoring them and then teaching them to become new disciples and servants for Christ all over the world!
'A Church in Chelsea' by Tassos Rigopoulos. The little-known story of St. EleftheriosGreek Orthodox Church founded in 1918 in Chelsea, New York City, as told by its priest and some of its longstanding parishioners.
'An Examination of The Dream' by Dr. Michelle Pierce Mobley. The Examination of The Dream takes a critical look at the work of Dr. Martin L. King juxtaposed against modern culture and events.
Educational Films:
'We Want To Be Born' by Jerry Jacob. An awareness video on abortion, on the basis of catholic pro-life belief.
Music Videos:
'His Last Command' by Josh Menning. A music video that shows shows us as Christians we need to be like Jesus and love one another!
'A song celebrating Lord God' by Ryuho Okawa. It's a Japanese song celebrating Lord God.
Scripts/Screenplays:
'Looking For Morning' by Gary Ivey. Looking For Morning is a feature-length screenplay about David Porter, a young pastor who has a crisis of faith when his wife dies, leaving him with two small children. His struggle is made worse when he meets Julia, an agnostic with tragedy in her own past. They are drawn to each other because of loneliness and their grief. When David recovers his faith, he can then point Julia back to God.
'Spectrum' by Bryan Mero. When a group of college kids find a way to see into the spirit world, they never expected the spirit world would look back.
'Major League Priest' by Frank Vespe. A former Major League pitching prospect turned priest, gets a second chance to return to the game he loves, all the while battling a curve thrown by an ex-sweetheart and dodging a hit ordered by the mob.
'Aboriginal' by James Beeler. A down-on-his-luck Outback station cowboy takes the law into his own hands after an Indigenous Australian man is acquitted of assaulting his wife.
'Dancing in Place' by Jeanne Dukes. Escalating mutual interest between middle-aged neighbors gets complicated when he suddenly remembers their brief and awkward teen summer romance, but she doesn't recognize him. As he devises a plan to stir her memory, painful secrets from the past threaten to keep them apart.
Event Poster for the 23 October 2021 Christian Film Festival:
Official selections for the 23 October 2021 Christian Film Festival:
Feature Films:
'Divaswapna' by Naresh Prajapati and Satich Davara. Divaswapnais a story of the journey of a village boy named Kanji who fights for the respect and dignity of the simple family farmers who are being oppressed by an evil Chief and his lackeys. With the help of his friends and the beautiful and smart lawyer Anu, they defeat the evil Chief and save his village. At the end all of Kanji's dreams come true, including starting a school for educating the farmers children, and marrying Anu and living happily ever after!
'Letters to Daniel' by Amy Leigh McCorkle. When two best friends set out to take over Hollywood the unthinkable happens-one of them is diagnosed with bipolar disorder. Told through the prism of their friendship, and the use of open letters to Daniel Craig, we follow their journey from breakdown to award winning filmmakers.
Short Films:
'Perpetua' by Mitchell Bronston.This is a true story. The events unfolding in 203 A.D. in the Roman Province of Carthage. A young girl of nobility, from the House of Perpetua, is in training to convert to Christianity. As a 'catechumen', she is not yet Baptized. Under current Roman law, catechumens are subject to arrest and forced to undergo a 'sacrifice' renouncing Christian faith and attesting loyalty to Roman deities and Caesar. If refused, death awaits them in the arena.
'The Prayer Warrior' by Marquita Owens Robinson. Twelve-year-old Star often carries the world on her fragile, prepubescent shoulders. Learning the Word of God from the church and her grandmother, she uses it to keep her father Cordell from turning back to the streets; the streets that have claimed her uncle's life and caused her father to miss the last five years of her life while he served time in prison. Will her faith be enough to bring her father to Christ?
'The Choice' by Nicole Stratton. A young college girl has to deal with the real life struggles of an unplanned pregnancy. Poignant, and tragically relevant, the story strikes at the emotional heart of one of societies' most important issues. The film is based on the stage production "The Sanctity of Life" by Dr. Nicky Chavers.
Mini-Films:
'Picture Day' by Alexa Campbell. Anna, a foster child, shows us a day in her life bouncing from to home to home until she may have found a forever home.
'Breakfast Journey, Overcoming Fear, Finding Friends' by Josephine McAllister. A young Asian American girl is afraid to go out during the pandemic because she thinks she will be blamed for the coronavirus, but to her surprise when her mother and her go out for breakfast they meet nice person after nice person!
'The Virus' by Antwian Walker. Subtitled "How I Beat The Ventilator", this true to life testimonial interview is motivating, informative and brings a deeper insight into God. Antwain Walker gives his testimony about how his faith and belief in God helped him survive COVID!
Documentaries:
'Daniel Unsealed 2' by Ben Jones. A brief but clear overview of the history that relates to Daniel Chapter 7, shown with visual effects to give clarity and understanding to a complex topic.
'Queen of Peace' by David Sipošand Vid Planinc. The docudrama The Queen of Peace on Kurešček(Kraljicamirus Kureščka) is a story about a forgotten place and newfound faith; a film narrative that reveals to us a fragment of the human life of Our Lady and her presence in our lives, here and today. In the documentary part, we meet witnesses who, in their authenticity, share their own experiences. The play, however, shows Holy Mary's path; the path of a simple girl who gives birth to the Savior and the path that we rediscover over and over again - to Mary, who is Our Mother.
'118 Fest (The first Christian UkPop Punk Festival)' by Simon Ward and Peter Field/Szczepanski. In 2018 Peter118 impacted on the UkPop Punk scene and became nationally known in the UK Pop Punk Community as a meme. This is the first of a kind 'UK Christian Pop Punk Festival' titled 118 Fest.
Animations:
'Cubekins, Invasion of the Cubecumbers' by Andrea and Michael Thoenes. When Kip applies too much fertilizer to his father's crop of cubecumbers, he and his family scramble to put the abundant crop to good use and learn some critical lessons in the process.
Music Videos:
'He Wants You Back' by Ashley Hays-Wright. A music video that shows us no matter how many times we turn away from God He will always take you back!
Songs:
'Jesus the Beginning' bySerina Aramaki. A song about Jesus coming to Earth to save humanity.
Scripts/Screenplays:
'Mariana - cousins' by Phil Strongman. Somewhere around the southern Mediterranean two cousins fall pregnant - in the age of the mobile phone, a modern day re-telling of the Virgin Mary's story.
'Dark Matters' by James Beeler. COSMOS and A Brief History Of Time meet True Blood and Twilight. Logline: "For centuries the vampires lived in the shadows until the ATLAS Detector experiment was performed in The Large Hadron Collider gave them omnipotent power.
'Trafficking' by James Beeler. An undercover police officer infiltrates a human trafficking ring but succumbs to temptation.
'The Last Christian' by Justin Wallace. A young Christian man named Johnny tells a far left person he knows at work he does not believe what he is doing is consistent with the Bible. Because he spoke out he gets fired from his job. With the help of a friend Johnny then sues to get his job back under first amendment and religious freedom clause, but the judge denies his claim saying he was fired because he caused his boss problems and it was hurting the business with all the leftists activists running around so he did not get his job back. All the publicity results in Johnny's father getting murdered by the left's mob who mistakes his father for Johnny. Still reeling from what is happening Johnny is invited by a church to come talk about his experience and what it is like to stand up for his Christian beliefs.
Event Poster for the 25 Septemebr 2021 Christian Film Festival:
Official Selections for the 25 September 2021 Christian Film Festival:
Feature Films:
'Dakota Smith and the Search for the Fountain of Youth' by Caleb Hebert and Christopher Hebert. Dakota Smith, world traveler and adventurer, is commissioned by the FBI to find the legendary fountain of youth. Together with Angela Swift, the two must find the fountain and keep Oliver Racktam, an archeologist with an obsession with time, from taking the fountain as his own. Full of comedy and adventure, "Dakota Smith and the Search for the Fountain of Youth" is a film for the whole family!
'Josef - Born in Grace' by SusantMisra. An adaptation of a short story "Joseph" written by UmakantaMahapatraand is set in the foothills of the Himalayas between 1960 and 1980 in India.Father O'Hara (Victor Banerjee), a missionary doctor with the help of his caretaker Maularam(SudarshanJuyal), raises an orphan baby Josef (Hitesh Bisht). While still a young boy, Josef is sent to Dehradun for his studies and vocational training. Josef (SubratDutta) returns back with a reputation as a great cook as well as his love for alcohol.The film explores in its unfolding of time, the different paths that Father O'Hara, Josef, and Maularamtake in their respective journeys for spiritual fulfillment through memories, duty, and search as well as the their interaction with friends and acquaintances. Through static mis-en-scenes, the narrative of the film reflects the all-encompassing nature of time, per-empting and repeating itself in allegorical hues.
Short Films:
'Sir EmeritoAzofeifa' by Pablo Solís. Emeritois a funny, loving and imaginative father who struggles to give a beautiful childhood to his daughter in the hardest times.
Mini-Films:
'Hit List' by Jamie Kassler. An eager thief hits the jackpot as he takes on the city, until he steals from an unassuming young woman who might jeopardize his biggest heist yet.The Love Project produces stories of love told without words.
'Eraser' by Jamie Kassler. A fiery young schoolgirl would do anything to protect her best friend from a merciless bully - and stumbles upon a dark, mysterious ring with magical powers that just might make her problems disappear.The Love Project produces stories of love told without words.
'Deceit' by Christopher Nkem Okafor. Ibrahim is a devoted pastor and loyal husband, after a visit with his doctor eight years ago he was left depressed when the doctor told him he was infertile so when his wife became pregnant he couldn't help but think it was a miracle. Eight years later, with tow amazing children, his suspicions about whether he is the biological father of the children grew so he decided to take a DNA test.
Documentaries:
'We Came A Long Way by Faith' by George Wingard. This documentary tells the story of Catholic Hill, South Carolina, the site of a historic Catholic church and school founded by African Americans before the Civil War, and are still thriving today!
'A Song Can Change A Life' by Warren Matson. This documentary tells the story of Sarge (Lloydis) and Shirley West who were unique because they were the only African American successful country music duo, who recorded songs with Charlie Pride in 1969 and were signed by Vista International Productions in 1971, and thier son Joe West, who carried on their musical legacy by singing and playing music and winning the 'Charlie Daniels Talent Roundup' in 1994, as told by family and friends! The film shows how both music and the Gospel can break down all barriers between people.
'Tapestry: Spiritual Music of A Mill Villages' by Gauri Singh. This film showcases a spiritual musical journey through a Mill Village of North Carolina where Brian Millers ancestors worked in the Mill and attended the churches in Gastonia, North Carolina.
Student Films:
'Eden's Choice' by Samantha Smith, Zac Johnson, and Noah Adkins. After losing her father, a young girl begins to struggle with a reoccurring nightmare of a school shooter asking for all the Christians to stand. Written and produced in under two weeks by the students of Venture Film's 1st Unit Film Camp with staff supervision.
Animations:
'Rich Girl' by KingbeeAnimation. A synchronization of animated pictures with music released on Zoe Records by artists Lil Redhead Somi.
Scripts/Screenplays:
'An Island Apart' byPaul G. Andrews & Tasha Walton. Set amidst the backdrop of the civil unrest in Cyprus from the 1950s to the 1970s involving the different factions struggling for independance, Turkey, Greece, and Britain, three childhood friends Emre , Giorgios, and Eleni have their lives torn asunder amidst the violence and chaos of the civil unrest as they each join different sides in the conflict.
'Sailing Savior' byKathryn L. Scurry. Friends Alex and Rhonda are forced to confront the demons of their past putting their mutual friend Debra in a compromising position. But when they part ways and Alex accidently books a Gospel cruise, she'll embark on a journey and return a new woman.
'A Match Made In Heaven' by James Beeler. An American man is forced to move to the Outback where he meets an Australian woman. Crocodile Dundee: The culture shock of an Outback Australian Bushman in NYC>. A Match Made In Heaven: The Culture shock of an LA MD in the remote Australian Outback.
Event Poster for the 28 August 2021 Christian Film Festival: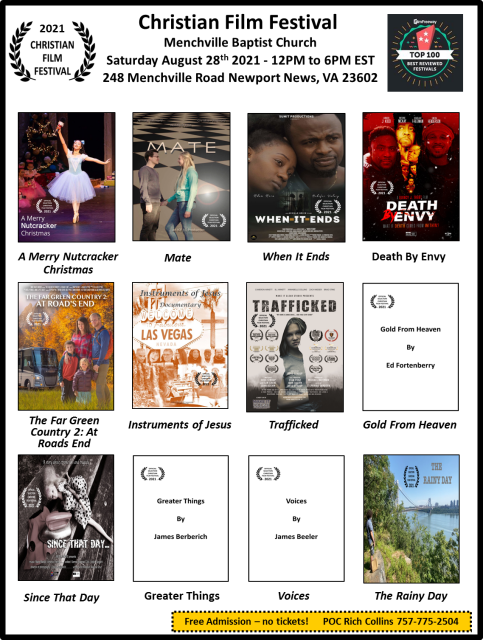 Official Selections for the 28 August 2021 Christian Film Festival:
Feature Films:
'Death By Envy' by Quincy J. Trent. Modern day version of the Biblical Cain and Abel Story. When a money deal goes bad between Ruthless Drug dealer Enrico and neighborhood good guy Abel "Honest Abe" Jones, Abel is shot and killed in front of his wife just minutes before they were set to leave for Florida. No one has a clue who did it, except for his brother Cain, who makes it his business to find his brother's suspected killer.
'When It Ends' by Achille Brice. This is a story of a young Christian couple who got married but due to their inability to have children, the wife Harriet decides to go on a 60 days fast as instructed by the wife(Mummy Esther) of her Pastor.
Mini-Films:
'Mate' by Reinhard Fustand Emanuel Engin. Two people are playing chess together. As the game progresses, we see how the chess moves affect the protagonist's life. We experience the ups and downs of the game and of life, until at the end a surprising twist adds a new dimension to the game.
'The Rainy Day' by Mario Lopez. A boy searches for his missing father in the streets of New York City in the midst of a global pandemic and social upheaval.
'Trafficked' by Doug Stroup. A 13 year old girl named Anna takes the witness stand in the prosecution of some very bad men who tricked her on social media and did horrible things to her.
Documentaries:
'Instruments of Jesus' by Joshua Campe. Instruments of Jesus is a documentary made inside Las Vegas Nevada of 7 amazing born-again Christians interviews/ stories/ testimonies of working for Christ and community as "boots on the ground" Chaplains and how Jesus transformed them into the work they do today.
'Since That Day' by Slavica Šnur. This documentary talks to Croatian parents who lost children in the Serbian Invasion in 1991 with the goal of remembering some of them with stories, pictures, and film.
'The Far Green Country 2: At Road's End' by Eli Pyke. When Eli's father dies of cancer, he and his wife Kelly get their family ready to live on the road in their motor home for a year and travel the country in search of memorable places with Eli's dad. Along the way, they encounter a handful of others who are also grieving losses in their own way, and those conversations add to a vulnerable expression of what Eli's process of grieving was like. The film is filled with stunning imagery of the national parks from the West coast to the East, and is sure to draw out the "roadtripper" in all of us.
Scripts/Screenplays:
'A Merry Nutcracker Christmas' by Gina Simms. When deaf, teenager Ruth has the opportunity of a lifetime to follow her dreams of starring in the Nutcracker Ballet, her excitement and confidence is abruptly ripped away when someone's jealousy clearly wants her gone. Ruth learns how to persevere through pressure and bullying, with her spectacular Holiday performance opening the door to a bright new future.
'Voices' by James Beeler. An egotistical businessman does cruel imitations of his workmates until one day he can't stop talking like them.
'Greater Things' by James Berberich. Based on the true story of Kristin Beal and the devastating accident she went through at the age of 14 that left her paralyzed from the chest down. This is the raw perspective on everything from how people react differently to her situation, to learning how to navigate in and through an inaccessible world, to just trying to make the best of a crummy situation. Which will ultimately lead her to greater things.
'Gold From Heaven' by Ed Fortenberry. Can a young Thai woman named Amporn forgive her ailing father after being subjected to unspeakable horrors because of his drinkng and gambling?
Event Poster for the 24 July 2021 Christian Film Festival:
Official Selections for the 24 July 2021 Christian Film Festival:
Feature Films:
'Legacy of Love' by RanelleGolden and Susan Meister. Unexpected tragedy causes a coming-of-age woman to question the meaning of life, until she finds her purpose by helping others deal with the loss of a loved one!
'Vegas' by Dr. Lois Ekwe. A movie based on Dr. Ekwe'slife story!
Short Films:
'Procrastination' by Marvin J. Lowe. A movie about a young woman who procrastinates about everything!
Mini-Films:
'For Whom The Bell Tolls' by D'Adonis Moquette. An atheist and a conman walked into a church.
'You Never Knew Me' by Hugh Anderson. A hectically busy clown too absorbed in his daily life doesn't make time for something that really matters.
'Numbers' by Chester Goad. A quirky, fun, thoughtful peek into the inspiring but tiresome life of beloved widowed minister "Rev" Whitt, and the broken but hopeful people of St. Luke's Parish Community. Stop in for some therapy or a piece of pie. If this quirky dramedy doesn't make you smile, well--we'll be praying for you.
Student Films:
'Game of Clues' by Jamison Moore. Enter the world of the Cluester--YouTube superstar and amateur online sleuth--and try to escape his puzzle rooms if you can. Join Logan, Alex, Riley, and Emma as they compete to see who is the true fan of the Cluesterand puzzles.
Documentaries:
'Nali' by Nathan Pfaff. Spending 33 years on one of the most remote islands of Papua New Guinea, a missionary couple translates the Bible into a tribal language with less than 4000 speakers. In their last week before an elaborate dedication ceremony of the published portions of Scripture, they must push past the challenges of underdeveloped village life, publishing difficulties, and an emerging Coronavirus in order to help address the spiritual needs of the community and preserve a dying language.
'A Boy's Journey: Crossing The Alenuihaha Channel' by Deveraux Gallagher. On August 6, 2020, eleven-year-old Bobo Gallagher became the first person ever to cross the AlenuihahaChannel on a wing and a foil and only the second documented solo crossing of that crossing in history. This is his story.
'Homeless Not helpless' by Changhee Chun. An observation of homeless individuals' struggles in Dallas, TX and the story of Raul Mendez helping homeless. "Blessed are the poor in spirit, for theirs is the kingdom of heaven." (Matthew 5:3)
'Let Me Live Again' by Duda Penteado. Bishop Nuñezwas born in New York City. His father abandoned the home before his birth, and at the tender age of eight, he lost his mother to cancer. This left him in the care of government institutions and forced him to live from home to home and in the streets of New York and Puerto Rico. Living a life of hopelessness, he succumbed to a life of violence, gangs, and drugs. But God's hand was upon him and through all the suffering and pain he was able to understand the meaning of life.
Animations:
'Time' by Massimiliano Tedeschi. The first animated short film by the filmaxcultural association tells of a tragedy today, a virus that has crept into our society and which at the moment does not want to go away. Obviously it is partly dramatic, with positive implications. We can say that a mixture of short film and documentary.
'Ci Credo' by Massimiliano Tedeschi. A talent show, an artist, an event that will change your life.
Music Videos:
'Take Me Away' by Michael McCallum. A music video for singer/songwriter, Justin Richard, about a couple who struggles through love, loss, and the distance of time and tragedy.
'Back By Popular Demand' by Flo Logan. Back By Popular Demand is a music video and first song on the soundtrack of the upcoming full-featured film, Back By Popular Demand. The movie is going to be about the second coming of Christ in the modern-day!
Scripts/Screenplays:
'Barsys' by James Becket. A devout Christian in 4th Century Egypt faces challenges to his faith.
'No Small Things' by David Nelson Ozmun. Blessed with MacGyver-like skills, an introvert Christian missionary earns success bringing water and sustainable practices to hardened Qechuavillages of western Bolivia in the mid-1990s. His success is challenged by one village when a life or death choice threatens all his work.
'Ashes to Ashes' by Jaime Gonzalez. An ex-military hacker must come out of hiding and stop a dystopian government he helped build from destroying his family.
'Feathers of Faith' by Joseph D. Kent and Duane E. Burcham. A confrontation with the self-aggrandizing pastor of his overly legalistic church sends a disillusioned Ray on a post-graduation trip to the Burning Man festival in search of truth and salvation where he naively finds himself drawn to the New Age teachings of a shaman and spiritual warfare ensues.
'Children of a Fatherless Child' by Robert J Morgalo. A dying man takes a DNA test in order to trace his ancestry before he dies only to discover that he has a daughter. When he finds her, they set out together on a journey of discovery, reflection, regrets, acceptance and hope.
Event Poster for the 26 June 2021 Christian Film Festival:
Official Selections for the 26 June 2021 Christian Film Festival:
Feature Films:
'Branded' by The Church of Almighty God. Li Chenxiis a Christian in China who has endured many hardships and persecutions at the hands of the communists for spreading the Gospel. This is her story.
'Angels Are Among Us' by Gerry Manus. An inspirational movie which depicts Angels sent from god to help us.
Short Films:
'Cabinet Stories' by Richard Rabelbauer. Hendrik can't forgive. On everyone who ever hurt him he set up a file stored in a cabinet deep in his heart. One day he met Maxi, a nice young lady. She gets him into a dilemma. Should he forgive her gaffe or hold it against her eternally? When finally Jesus knocks at the door of his heart he has to make a decision: keep storing mountains of cabinets filled with unforgiven stories in his heart and stay unbearable or create space there for people that mean something to him.
Mini-Films:
'The Convo' by Krystal Bolden. When a proud father finds out a dark secret about his son, he has to re-evaluate how he sees his own life and how to move forward.
'Annie & Willie's Prayer' by Alan Moore. A heart-warming holiday tale about the power found in the faith of little children.
'Tikkun Olam' by Bob Ahmed. A fiction film about an eight year old boy who tries to befriend a homeless veteran in Washington DC!
Student Films:
'Retronym' by Nathaniel Jensen. A young man wakes up in a strange place with no recollection of how he arrived. He is confronted with a series of choices and tests before having to make the most important choice of his life.
'Agape' by Sagar Rai. A college age son has a struggling relationship with his dad. Their relationship takes a further toll when the son is diagnosed with a terminal cancer. The father helps his son walk through a spiritual journey to ultimately finding the person of Jesus Christ.
Documentaries:
'Hara El kebira' by Gilles ElieCohen. A Jewish village in southern Tunisia.
'America the Great Enabler' by Jim Ackert. Ten things are set up by America, the great enabler who is never mentioned in Bible prophecy, but none the less, has set the stage for the consummate act of human history, the second coming of Jesus Christ.
'Women of Faith: Coping with Trauma' by Angela Heath. Our inaugural project is Women of Faith: Coping with Trauma. This mental health documentary takes an in-depth look into the lives of four women who are survivors of childhood abuse, but who also triumphantly find joy, hope and peace through their faith in God and their community. We know it is a tough subject, but let's have the tough conversation so women, children and families can find healing.
Animations:
'Florentine and the New Neighbor' by Herbert Stine. This is a story about a family of mice that retail biblical stories to children.
Music Videos:
'May God Smile on You' by ZirzeriaL Wright-Beveridge. This is a song to encourage families during this pandemic and keep hope in their hearts.
'Can't Get Enough' by Chandler Bradley and Matthew Mozingo. This is a music video about a young man in love with a young woman.
Songs:
'You Are My Best Friend' by Kathleen Tessalone. A song written for all the dogs in our lives who provide companionship and unconditional love! This song was written for the story 'Dogs in Gods World' about a boy named Willie and his faithful companion dog named Wilbur!
Scripts/Screenplays:
'Wide as the Western Sky' by Jeanne Dukes. When an aspiring young country-western singer vows to honor his faith above his career, he encounters frustrating delays and opposition that threaten to destroy his dreams. A modern-day reflection of the life of Abraham.
'Joe Louis is Coming to Town!' by Leonard Varasano. All that a child needs to succeed in the world is to have someone who really believes in them.
'Faith Wins (The Wildcard of the Strip)' by John Pate and Rich Natole. A faith-based story; redemption of a struggling soul after tragedy.
'Dogs in Gods World' by Kathleen Tessalone. An autistic boy named Willy & his St.Bernarddog Wilbur are returning back from the park, they end up walking down this alley and see this bright light coming from this old abandoned doghouse. They both go over to the doghouse crawl inside and see a heavenly painting, they touch the painting, and transfer to heaven. Willie does have a family, a sister named Wanda, a mother Wynonna and a father Walter, There is Willies nemesis Winston, & his dog Cain). Walter creates inventions. After getting lost from a return from heaven, Willies father Walter creates an invention that ultimately fails and through divine intervention by prayer, the family meets up with Willie and Wilbur, with a glorious ending. The movie is topped off with an award-winning Disney type song.
'Mother of the Church' by Sandra Basey-Lennon. A woman with everything loses her daughter and the will to go on until she meets a church family and finds God.
Event Poster for the 22 May 2021 Christian Film Festival: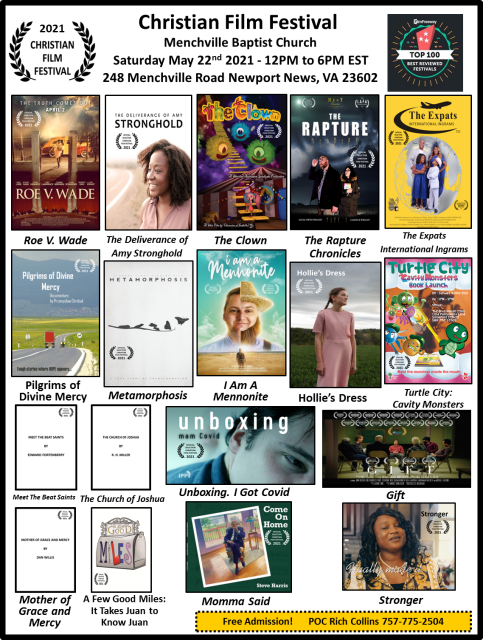 Official Selections for the 22 May 2021 Christian Film Festival:
Feature Films:
'Roe v. Wade' Nick Loeb and Cathy Allyn. Dr. Bernard Nathansonand Dr. Mildred Jefferson square off in a national battle in this untold conspiracy that led to the most famous and controversial court case in history.
'The Deliverance of Amy Stronghold' by Seth Himes. Amy Stronghold, a homeless hustler, must get off the streets, hold a job, move to the strange land of suburbia and find God before her daughter is lost to her forever.
Short Films:
'The Rapture Diaries' by David Owen Wright. A little girl struggles with the loss of her mother, and re-evaluates her own salvation. She tries reaching out to her father about what it means to be saved, but he is too lost in his own grief to realize she is struggling with questions about the afterlife. He plans a trip to see the blood moon and doesn't realize he will be getting much more than he bargained for. The Rapture. Who will be caught up, and who will be left behind? Are YOU ready?
'Hollie's Dress' by Annie Sakkab. As 14-year-old Hollie sews her first dress with her mother, she faces the decision all Mennonite girls must make as they reach adulthood. Will she put on the dress and become a full member of the Mennonite church and assume her role as a mother, or will she join the wider world?
Mini-Films:
'Unboxing. I Got COVID' by EunikaChojecka. It is a story of two men diagnosed with Covid-19. They are in the same hospital room. It seems that they have almost nothing in common but the coronavirus. The older man can't take it anymore, the younger man – can't stand it anymore. However, Christmas Eve of 2020 is coming, and it changes everything.
'Gift' by Al Julian and Vince Eisenson. A jaded alcoholic has his world view challenged by an unexpected act.
Documentaries:
'Pilgrims of Divine Mercy' by PrzemysławJan Chrobak. In this road movie four repeat offenders, who converted in prison, set off on foot to the Vatican, drawing a special trolley with a gift for the pope – a painting of Merciful Jesus.
'I Am A Mennonite' by Paul Plett. A filmmaker explores his Mennonite roots & identity.
'Metamorphosis' by Jordan Hatfield. An ex-drug dealer/addict personally recounts the powerful redemption he experienced through Jesus after living decades of his life in crime, violence and addiction.
Animations:
'The Clown' by ChunxiaoYu. A clown discovered a stair heading forward to heaven. She experienced her unhappy and happy events when swallowed by fur monsters on the way to heaven.
Web Series:
'The Expats International Ingrams' by Juanita Ingram. The Expats International Ingramssheds light on the dynamic, exciting, and unpredictable life of EXPAT families; as well as educates and introduces new places and experiences to families.
Music Videos:
'Stronger' by Dr. Lois Ekwe. A music video of Dr. Lois Ekwe'strue life story!
Songs:
'Momma Said' by Steve Harris. A song which extols the sound advice our mother's give to us when we are young that guides us our whole lives.
Advertisements:
'Turtle City: Cavity Monsters Picture Book Trailer' by Tienny The. Hinghates brushing his teeth. No one can persuade him to do it, until one day a foul smell emits from his mouth. Let us go inside his mouth and see what is happening there!
Scripts/Screenplays:
'Mother of Grace and Mercy' by Dan Willis. After witnessing the death of her son Jesus, Mary must fight the early Church and Jewish leaders while overcoming her own shame and sorrows in a struggle to preserve her son's teachings about the transcendent power of love.
'A Few Good Miles - A Few Good Miles – It Takes Juan To Know Juan' by Michael Nicolosi and J Nicolosi. A situational comedy based on the life of a typical American family in Calhoun, USA. The dad Jim is a writer, the mom Beth is a great cook, and two boys a 5th grader named Josh a great athlete, and a third grader named Benjamin with trust issues.
'Meet the Beat Saints' by Edward Fortenberry. In 1964 middle America, Gordon, an aspiring music promoter finds himself at odds with his family and church who don't approve of his gospel quartet show or girlfriend, Priscilla, who is from a different denomination. The British invasion hits, and Gordon loses Priscilla to a guy who's more into it. Gordon, a short wave radio fan, finds a British station and learns that there is a Christian band from Liverpool that sounds similar to the Beatles. He makes contact with them and arranges for them to come to the US for a Christian British invasion, at a time when rock and roll is not looked on favorably by religious people.
'The Church of Joshua' by R. H. Miller. Pastor Josh Evans is about to build a new church he and his father always dreamed of making. However a corrupt city councilman steals their land from under their feet. Now Josh must do whatever he and his congregation can do to get it back, which may involve some unexpected actions.
Event Poster for the 24 April 2021 Christian Film Festival:
Official Selections for the 24 April 2021 Christian Film Festival:
Feature Films:
'ZwinglisErbe' by Alex Fröhlich. A.D. 1519: When HuldrychZwingli begins preaching as a priest in Zurich, the plague affects him. Looking death in the face, God's Word carries him through and he survives. Encouraged, he turns Zurich upside down with the Bible in his hand.
'Open Wounds' by Marc Allen. Erica (Emily Conley) is saddened by the lack of faith she finds in the world. Determined to make a change, she tries to convince her school principal, Principal Marks (Karla Dansereau) that prayer and b